Doesn't take a genius to know getting oil mist into a boosted motor or even a finely tuned naturally aspirated motor is cause for detonation. So why is Ford Racing peddling this off-road/racing oil-air separator vs simply installing on the production line a properly engineered oil-air separator on the boosted and high strung naturally aspirated motor cars to begin with?...............
WARNING:
This part is designed and intended for competition use only. It should not be installed on a vehicle that is driven on public roads and highways. Installation of this part on a vehicle driven on public roads and highways is likely to violate U.S. and Canadian laws and regulations relating to motor vehicle emissions.
M-6766-A50A
Retail
$215.00
This oil-air separator is a must have for any track enthusiast!
Fits 2018-2019 5.0L Mustang GT Fits 2019 Mustang Bullitt™
Canister is located on the RH (Passenger) side of the engine
Precision molded canister with unique filter media separates oil vapor from the air in the PCV system Designed and
engineered specifically for installation on the Ford Coyote family engines
All OEM quality hoses and fittings are used for a high quality installation and function This is a highly engineered system, not a universal "fits-all" kit, developed by the experts that know your Coyote engine best Canister is easy to drain by removing PCV lines off canister, removing canister and draining oil
Engineered and manufactured in the USA
Engine: Dress-Up Kits
Instruction Sheet
Available (PDF)
Warranty Availability
Not Available
Packaged Dimensions
7.75" x 6" x 7.75
Packaged Weight
1.45 lb(s)
UPC Code
756122010228
Country of Origin
United States
SEPARATOR RH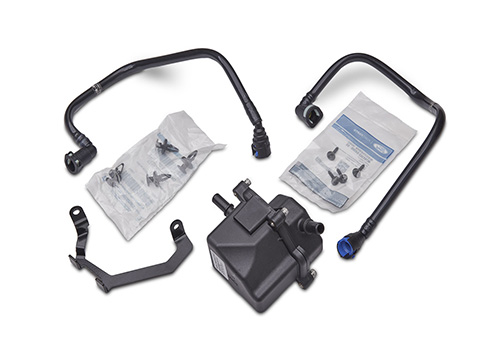 M-6766-A50A