Discussion Starter
•
#1
•
Don't throw out that pickle juice, use it to marinate chicken breast(s), marinate for 3-4 hours, it's chickfil~a's secret to juicy flavor chicken sandwiches.
After marinating, dry the breasts off completely and split in half, pound them out with a meat hammer till flat, if the breasts are big enough, you can split them again and make four patties.
I've been using this for coating my chicken lately, good stuff.
This stuff is what they call spicy/seasoned batter mix, so keep that in mind, I, myself don't find it all that spicy but my wife does, hell I doused my breast with red label slap ya mama seasonings and it still wasn't hot enough to my liking.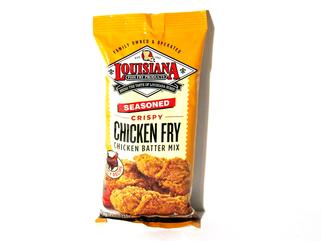 Measure out 5 TBS of the mix with 1/2 cup water and make a batter, dip breasts in the batter, then coat in the remaining mix, allow batter to soak in a few minutes then deep fry as usual, remove when you get an internal temp reading of 165-170.
This is my copy cat Chikfil~a deluxe chicken club with home cut fries using Denny's doubly fry method, which is always a hit.