Discussion Starter
·
#1
·
First off I'd like to thank everyone on this board for all the advise you all have given me. With that being said
I went bracket racing this past weekend. 8/02/2008 I had a great time racing with friends. I was having alot of fun. It was a little hot mid day but it eventually cooled down a bit once the sun started to go down.
My time trails didn't go so well. I spun the tires both times. Everyone was having a little trouble. So they shut the track down for a little over an hour. They scraped it and worked on it for a good time. Their efforts worked cause everyone was hooking hard including me.
Here are my time trial slips.
So I compared the two and put a 12.80 on the window. I staged at 2500 rpm on the first time trial and on the second I tried 3000 rpm to help cut a better light. Well it didn't work that well for me cause the car started to move. So I went back to 2500 rpm that is why I went with a 12.80
As you can see we both hooked good and we both broke out.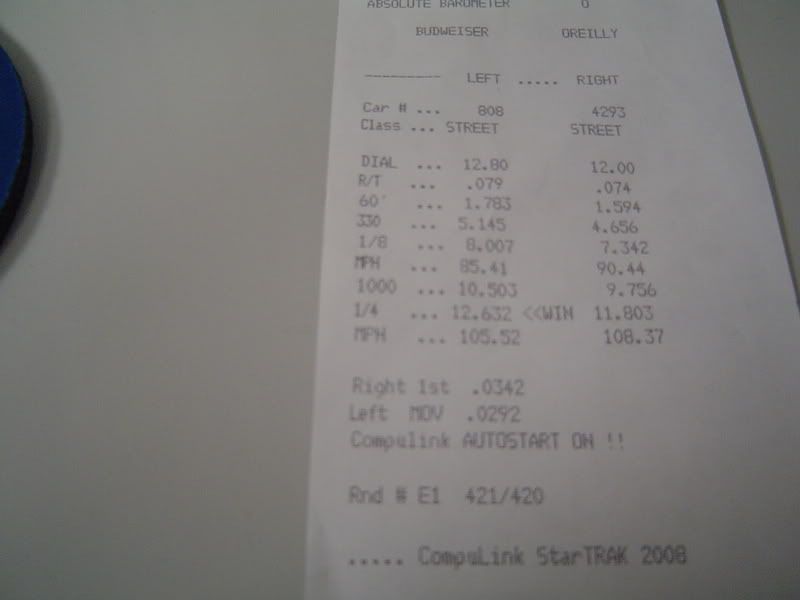 So the second round I was up against a 65 mustang. This guy is 5th in points and is a weekly bracket racer. I for sure thought I was going to lose. But I stayed confident and kept telling myself I'm going to win this round. And sure enough I did.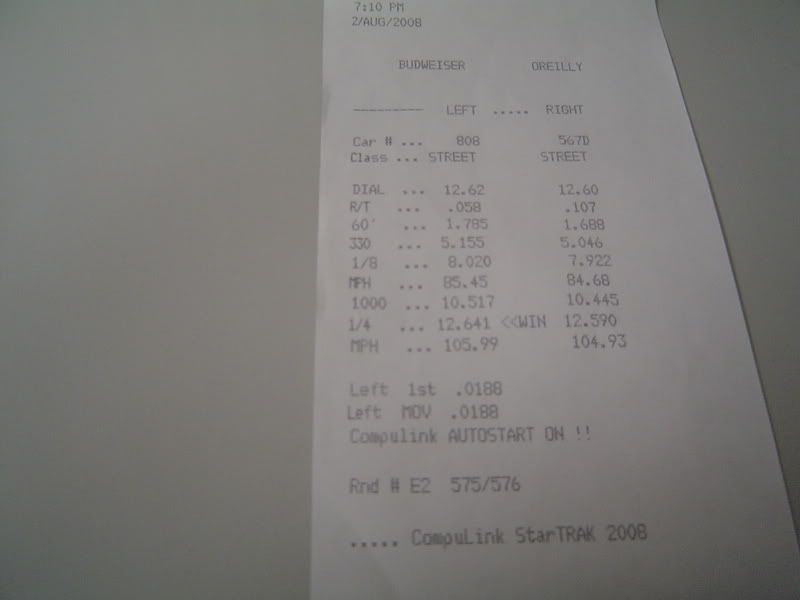 So now I was ready for 3rd round. It started to get darker out and it was alot cooler out. So I went with a 12.61 on the window. My friend told me be careful it's darker out and the lights are going to be brighter so don't go red. And what happens I went red. Crap!!!! I think I could have won against this guy if I hadn't gone red. He broke out.
Well Overall I think I did a good job for haven't gone bracket racing in a good while. I had a blast and can't wait to go again. I think the car ran consistant. My 60' times are very similar. I was happy with that. I don't think the bigger rear-end affected the car as much as I thought it would. That's a good thing. I also got my line lock to work. I had to basically get schooled on how to use it properly. It worked out real good for me. I like LINE LOCK
Here are some pics