VersaNotcher & saw arbors from Rogue Fabrication - 225 degree adj., clamp on a bend!
The VersaNotcher requires no assembly, and has all the features you guys need at a price you can afford.
It doesn't look like any other notcher because it isn't like any other notcher. The VersaNotcher has pivot bearings on both sides of the joint between the vise and bearing block. No other notcher currently on the market has this feature. Double pivot supports reduce vibration the same way putting a bolt in double shear increases joint strength.
Link to order the VersaNotcher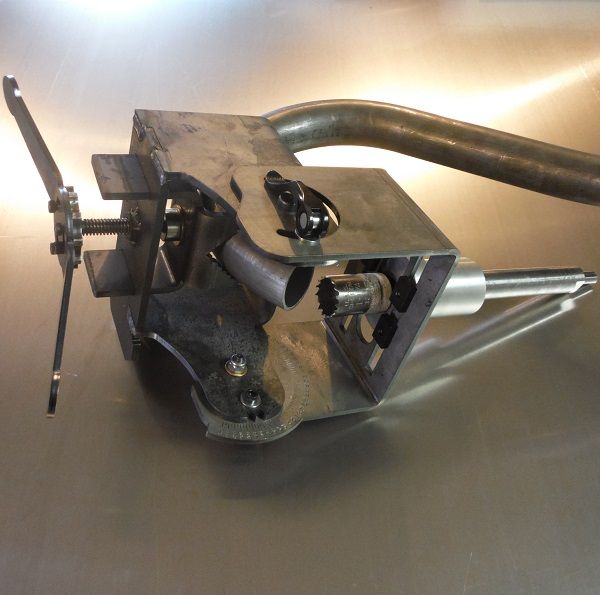 Sorry for the CAD images, but they show the milled scales so nicely!
Specs:
Round Tube Capacity: 5/8" to 2"
Square Tube Capacity: 5/8" to 1 1/2" (2" when notching diagonal)
Flat bar Capacity: 1" to 2 1/2" wide
Angle adjustment range: 225 degrees
Max offset: 1 7/16"
Notch on a bend: YES
Clamp on a bend: YES
Clamp square tube in "diamond" orientation: Yes
Features:
Angle adjustments: Quick release cam locks for fast precision adjustment.
Pivots: Oil-Lite impregnated bronze bushings with case hardened and polished axles.
Angle indication: milled into the frame for durability. 2.5 degree hash marks, numbers every 5 degrees.
Offset indication: milled into the frame for durability. 1/8" Increments.
Shaft: 1" OD 416 polished and ground heat treated stainless steel on dual hardened bearings.
Vise interface: One hand lockable quick release handle mounted to an ergonomic hand grip wheel.
Vise type: True ACME lead screw with bronze thrust washer for long life and reduced friction.
Finish: Plain steel frame
Assembly required: None.
Hole saws: accepts standard hole saws on standard arbors (none are included).
Power: Use any 3/8 or 1/2" hand drill.
Mounting: mounts easily in a bench vise.
MADE IN THE USA!
PRICE: $399