Discussion Starter
·
#1
·
The car is an 80 Coupe, silver over redfire. Race weight 2920 on motor with no bottle in the car. 3050 in nitrous/class trim, but can be run at 2950 on nitrous.
Trans is an ArtCarr 1000hp powerglide with 9" 5400 rpm converter
Steel driveshaft, 9" rear with 4.10s and 28x10.5 tires
Motor:
434ci Dart Sportsman based motor
4" Eagle 4340 crank neutral balance
6.25" Eagle 4340 h-beams with L-19 bolts
4.155" Diamond flat top nitrous pistons
Compression last year around 13.8-14:1
AFR 225s with ported Exhaust, titanium intake valves 2.08, extreme duty steel exhaust valves, titanium retainers, probe shaft rockers, 8.35" trend 3/8" pushrods
Super Victor intake with custom dominator flange welded on and some porting
1050 Dominator
2" supercomp headers to 3.5" collector to 6" long schoenfield mufflers on the headers
2010s best ET's were...
1.44 sixty,
[email protected]
1/8,
[email protected]
1/4 mile at 2930 lbs at 74-77* temp
1.42 sixty,
[email protected]
1/8 with borrowed PS Dominator, 5400 stall
1.38 sixty,
[email protected]
1/8 with my dominator same night, 5400 stall
1.34 sixty,
[email protected]
1/8 on a 175 hit with 4000 stall
1.42 sixty,
[email protected]
1/8 on a 175 hit with 5400 stall, but didn't hit the gas until the sixty foot mark
I never got a chance to spray it off the line with the loose converter because the hood flew up on the one attempt I made. It did go 1.37 to the sixty on the back tires on that pass before the hood flew up at half track.
OK, so for the updates this year...
The AFR 225s have been opened up on the intake side now to flow
[email protected]
,
[email protected]
, a pick up of 13 and 15cfm respectively. The chambers were opened up to 58cc, so compression will be around 13.6:1 or so.
The intake has been opened up in the plenum area and top of the runners a lot.
Nitrous Express plumbed in a Propower style spraybar into the intake plenum area right between the runners and custom drilled the holes to point towards each runner appropriately.
I also picked up a Nitrous Express Propower plate for the class that requires a plate and won't accept the spraybar in the intake.
I think I've decided to forego dynoing the engine on an engine dyno and instead installing a new main body on the carb and having Dan Davinci come tune at the track for me. Dan has been great working with me, even with my tight a$$ed budget. So for any of your carb rebuilding or tuning needs, I'd strongly suggest Dan Davinci and of course let him know I sent ya.
Re-using the Cometic MLS gaskets, sprayed each layer with two coats of permatex copper spray to help prevent mysterious oil leaks...
Had to trim the 1262R gaskets. Doesn't look great, and took a long time, but everything matches up well now where the gasket is not blocking airflow...
Some new goodies...thats the NX Propower plate and a custom spraybar in the intake itself. Looks like Evil Street rules aren't going to let me use the spraybar in the intake, so I had to pick up the plate too. I think the spraybar will be way more efficient since the holes are drilled and pointed specifically at each runner and the flow doesn't have to make a turn from the upper plenum down to the runners.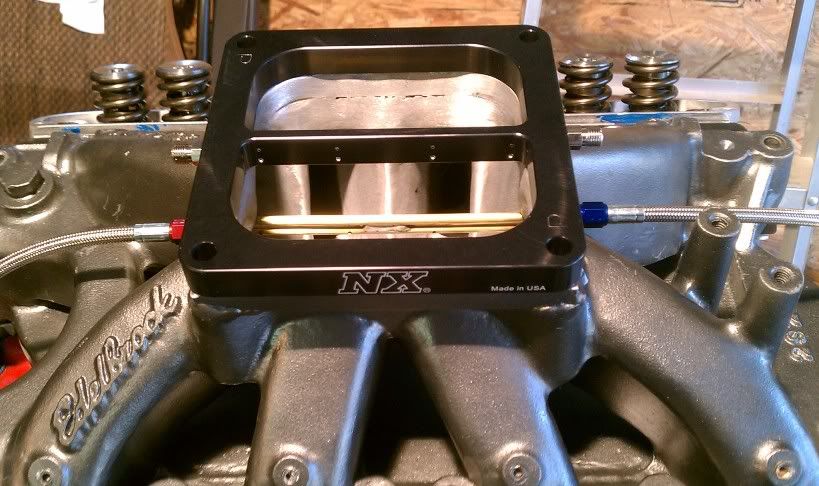 New solenoids...