Discussion Starter
•
#1
•
Quick update, as we are making progress with the change to the big tire, but not where we want to be just yet.
* Installed new Santhuffs rear shocks & 100# springs;
* 1.80 1st gear from 1.69 (same 4.29 rear gear);
* IC now at 58" & 7" (slightly longer & higher);
* Larger 36n plenum kit on 1st with 2nd 32n fogger on 2nd;
* Hoosier 33x16x15 tires (108" rollout), 6#;
* Bottle pressure lower than normal @ about 825#;
* 4000 launch chip vs. usual 4800 (MSD box was not set right);
Video of 2nd run: Car launched well, but still crunching the tires, then went right hard down track @ 2 seconds (think the track was loose);
http://s1132.photobucket.com/user/f...051F64981AB27_zps175a2d0d.mp4.html?sort=3&o=0
60' is 1.120, not what we are shooting for, but OK in these air & track conditions.
Run1 Graph: Left good, went right down track, peddled it, n20 on & off again, still 3.12 4.70 156 lifting at 6.4 seconds 7.26 179 scrubbing about 17 MPH.
Run3 Graph: 2nd stage on @ .35 seconds vs. 6 in Run 1. All good until the car again moved right & did not shift in to high gear, 8000 when I lifted.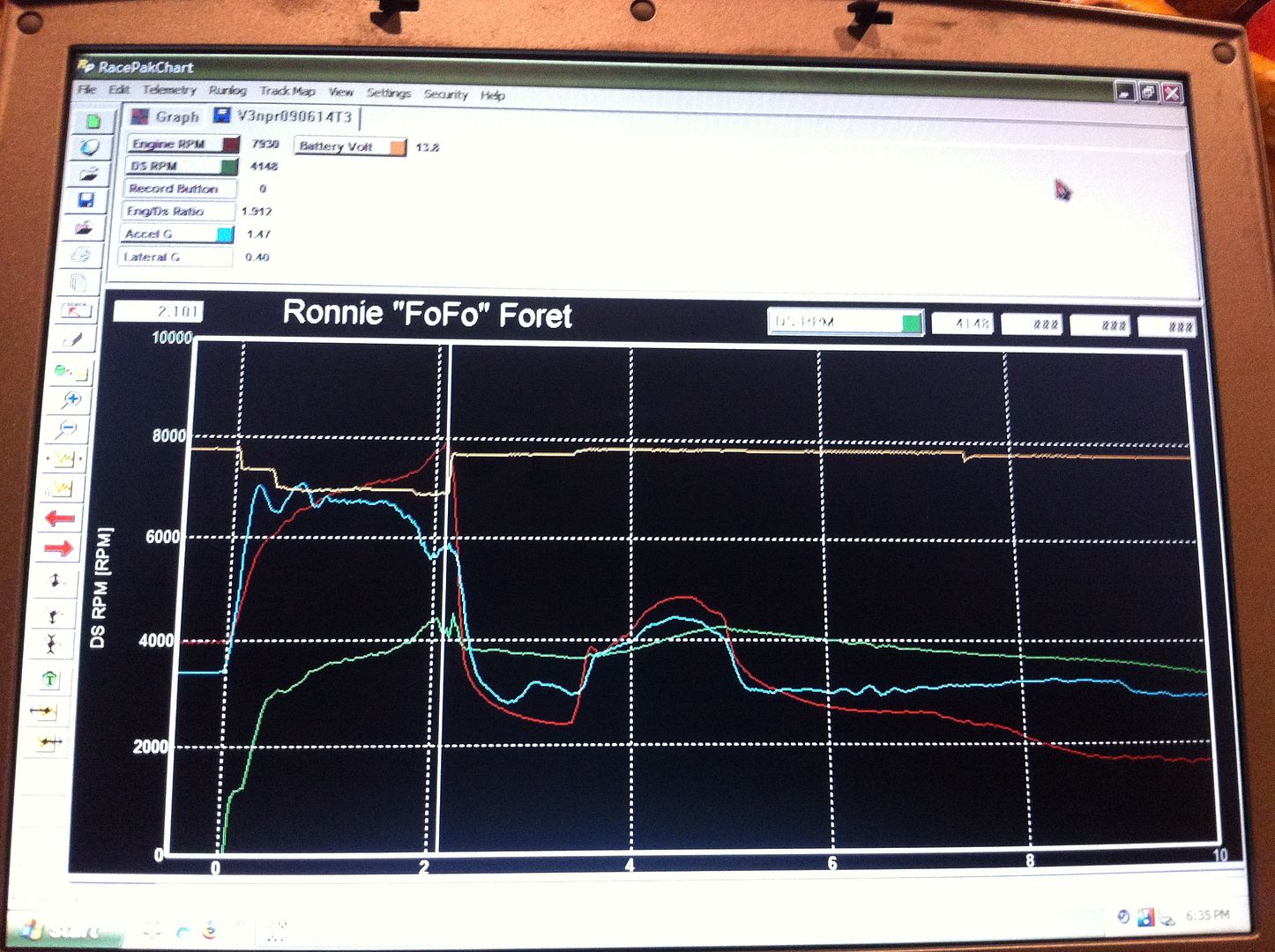 The data seems to suggest that we need more wheel speed sooner in the run, as we are not close to getting up on the tire, even with two stages on in .35 seconds.
We will make a few small changes the next time out, besides fixing the tranny;
* -6* & -8* vs. -8* & -6* (16* total);
* 4800 Launch RPM vs. 4000;
* Bottle pressure closer to 900#;
IF we can get this to work, & get down the track, we should be able to bring the 3rd "smallish" stage 26n20f in @ .60.
We'll see. Any thoughts are welcomed.