Discussion Starter
•
#1
•
Here is the link to the Open House flyer and the entry form online:
Flyer: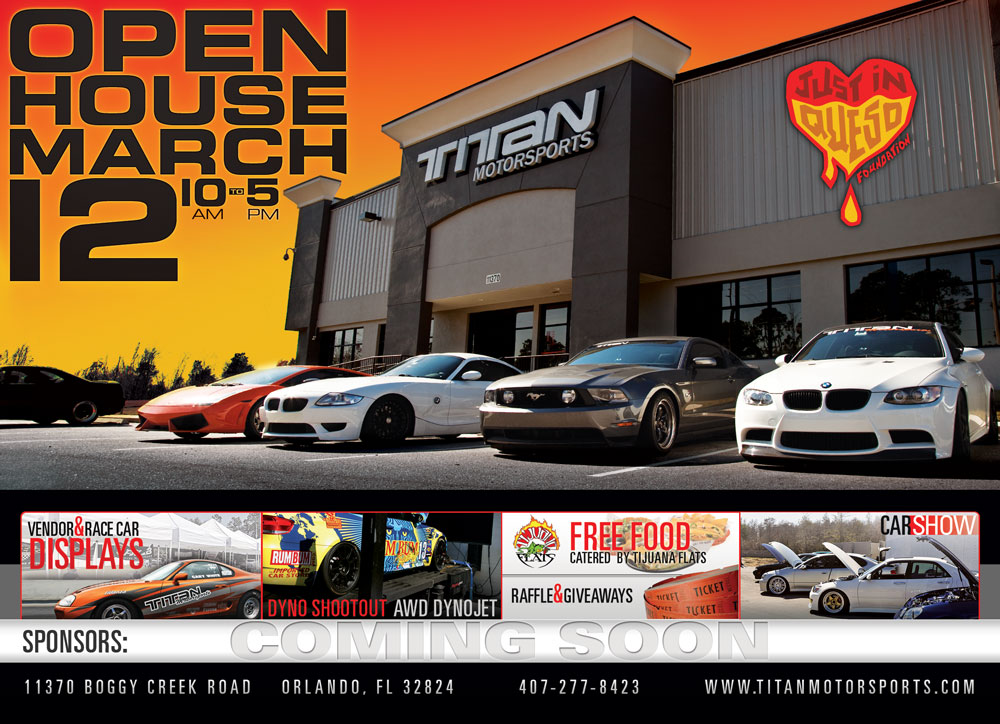 Entry Form:
http://www.titanmotorsports.com/titan-motorsports-open-house-march-12-2011.html
Below is the template that you can just drop into your forums. Just double check to make sure it looks right in the preview. (that includes you Bottle).
Titan Motorsports will be hosting its second-annual Open House on March 12th, 2011. The open house will feature a car show and dyno competition with trophies and prizes for the top vehicles in several categories with a portion of the proceeds going to the Just-In-Queso charity. In addition, representatives from the top brands in the automotive aftermarket industry will be on site to display their products and answer questions on their product offerings. A raffle will be held to benefit the Just-In-Queso charity, prizes include gift certificates, apparel, parts, and memorabilia. If that weren't enough, there will also be FREE FOOD! That's right, Tijuana Flats will be on hand to make sure everyone is eating good. Last year's show was an amazing success, and with your help we hope to have an even better show this year.
Check out last year's show. <a href="
http://blog.titanmotorsports.com/?p=2126
">Click Here</a>
For Entry Form and More Info <a href="
http://www.titanmotorsports.com/titan-motorsports-open-house-march-12-2011.html
">Click Here</a>