Discussion Starter
•
#1
•
The Northeast's Quickest and Fastest Outlaw Pro Mod Association "NEOPMA" partners with Maryland International Raceway "MDIR" to bring you a one of a kind Pro Mod Shootout Challenge which in regular season racing has seen earth turning 5.80's and 250+ MPH passes. MDIR is notable for its incredible track surface, safety, racer and fan friendly environment that is unequaled in the Mid-Atlantic States. Big payouts are the reward for the baddest Pro Mods to run this annual event that will surely see many racers setting records on both ends, ET and MPH. Forty plus Supercharged, Nitrous and Turbocharged Pro Mods are expected to make an appearance as this Event is always one of the most anticipated of the year. Bring the family, friends and if you have what it takes...., YOUR TEAM to CHALLENGE the Northeast's finest Pro Mods on 1320ft of Outlaw Pro Modified Drag Racing Mayhem.
SEE RACE DETAILS BELOW
:
Date: September 25 -26, 2015
Fields: TWO Sixteen Car Fields.
NEOPMA members as always - no entry fee.
DRIVER and THREE crew - free entry for all pro mod racers.
"Non NEOPMA Member Information Below"
Click Flyer to Enlarge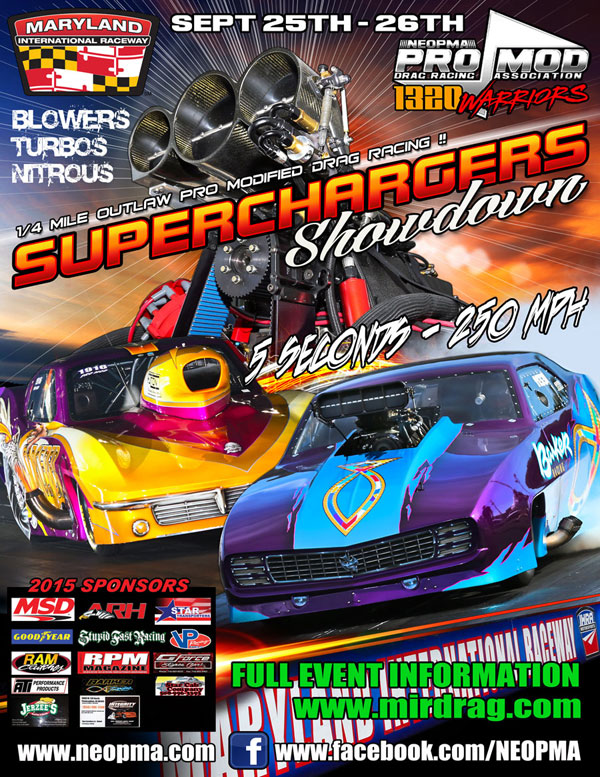 Click Link For Larger Fllyer
http://content.godragracing.org/MDIR-superchargers-flyer-full-web.jpg
PAYOUT TOTALING: $28,000.00
PAYOUT BREAKDOWN:
FIRST FIELD WINNER: $8,000.00
R/U: $2,500.00
SEMI FINALIST'S: $1,000.00 Each
2'ND ROUND LOSER'S: $750.00 Each
1'ST ROUND LOSER'S: $600.00 Each
SECOND FIELD WINNER: $2,500.00
R/U: $1,000.00
SEMI FINALIST'S: $400.00 Each
2'ND ROUND LOSER'S: $300.00 Each
1'ST ROUND LOSER'S: $200.00 Each
BONUS CONSOLATION RACE: If we exceed 32 cars racing, we will give the remaining cars the option of have a consolation race (minimum of 4 cars) for a winner takes all purse of $250.00.
NON NEOPMA MEMBERS:
Non NEOPMA Member Entry Information
No Fee Unless You Win Money. Driver and 3 crew free entry.
1. If you do not win money you pay nothing.
2. First, second and third round losers will have 25% of their winnings deducted.
3. Runner Up in second field will have 25% deducted from winnings.
4. Winners of both fields and Runner Up from first field will have normal NEOPMA annual membership fee ($700) deducted from their winnings.
FULL EVENT INFORMATION:
http://www.mirdrag.com/v2/schedule/calendar/2015/15-09/15-09-26.htm
Maryland Int'l Raceway • 27861 Budds Creek Road • Mechanicsville, MD 20659
301-884-9833 (Office) • 301-884-9878 (Fax) •
[email protected]
NEOPMA WEBSITE:
http://www.NEOPMA.com/
And on Facebook:
https://www.facebook.com/NEOPMA
NEOPMA SPONSORS: American Racing Headers, Star Transporters/Renegade, MSD Performance Products, Stupid Fast Tee Shirts, ATI Performance Products, Goodyear Racing Tires, VP Racing Fuels, Ram Clutches, RPM Magazine, Barker Racing, Scriba Welding, Star Cab Co. and NY Motorsports.