Discussion Starter
•
#1
•
For those of you who haven't seen our line of tools already, our flagship product is our model 600 tubing bender. This is a full-featured tubing bender that is perfect for roll cage, chassis, and suspension work. This is a non-mandrel rotary draw machine, so it is not suitable for most exhaust work, although it can be used to make some header components.
Size range is 1/2" OD up to 2" OD, and 1/2" square up to 1 1/2" square. We also have all the pipe dies in that OD envelope as well.
For those on a budget, the model 600 is available as a weld together kit for $645-845 depending on the die you chose to come with it. That includes everything in this picture except the hydraulic cylinder and the white pin label stickers. You can pick one up at our shop in Oregon, or we can ship it within the lower 48 US states for $70-95. The air/hydraulic cylinder is an off the shelf item at harbor freight and is $71.99 with a 20% off coupon. That adds up to a grand total of $787-1012 for a 195-degree bender that is both portable and air-powered, and can bend 96 degrees in the first stroke of the ram.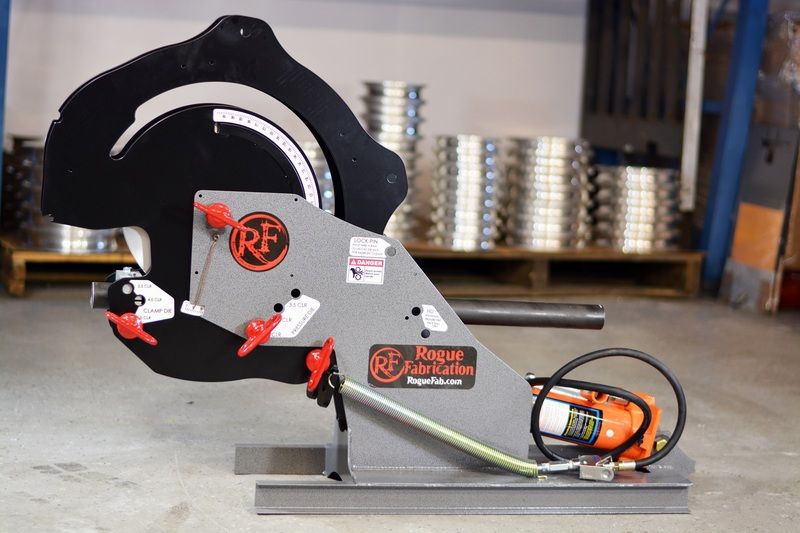 We also have an electric/hydraulic power option, which is manufactured to our design specific to this machine with components from North America and Europe (nothing from China). This system bends with an impressive 8.5 degree/second max rate, and is continuously adjustable for speed both in and out via an industrial joystick control. It is also available with an infinitely adjustable (and nearly instantaneous) automatic stop. If you chose to get a model 600 with the electric/hydraulic system and 1 die, the price range will be roughly $2500-3500 depending on options like die choice, weld kit or fully assembled and powder coated, etc.
And for those of you who are looking to replace equipment your business has outgrown or you need more precision and production features, we offer complete fabrication tooling packages all self-contained on a seriously burly 1200-lb capacity roll around cart with high capacity ball-bearing-slider drawers that self latch. These packages all include freight delivery to a business can they can be up and running in 15 minutes from the time they are dropped off. Prices cover a wide range, depending on if you want to have your machine pre-assembled, powered by air or 240VAC, and if you want the VersaNotcher included or not. This package includes dies to bend 11 different sizes (combination of round and square, substitutions available). These packages range from $3450 up to 6875.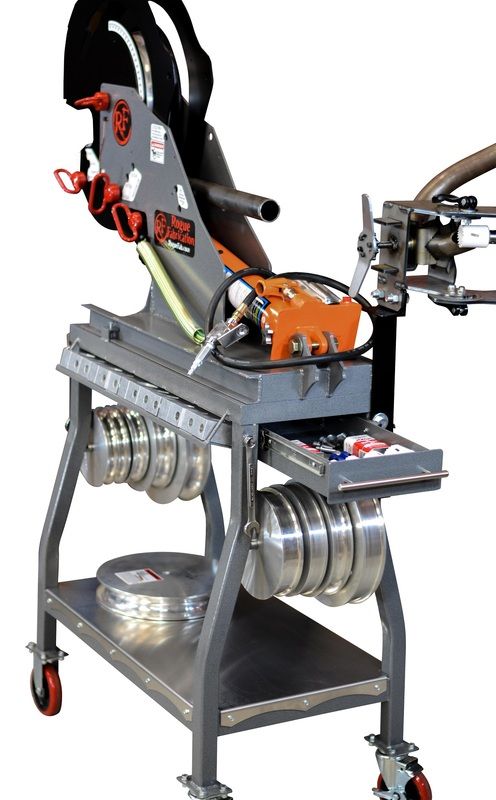 All prices are subject to change, but are accurate at the time of this posting.