Discussion Starter
·
#1
·
Just recently switched from a very old TRZ anti roll bar (single adjustable) to a Wolfe Double adjustable. Set up is a '91 Mustang GT. UPR double adjustable upper, UPR lower, Stock GT rear springs, Strange adjustable shocks and struts all around, Coil overs in the front, etc. The usual stock suspension set up for a fox body. Turbo car with a glide and AMS 1000.
Anyways, car used to 60ft pretty well for a 3400# car. Turned pretty consistent 1.28-1.31 60ft with the TRZ bar. But we had an end bend and flex on it so upgraded to the Wolfe. Set up the bar according to the directions from Wolfe, and the car can not get off the line for shit. Nothing else has changed. Weight ratio (55/45 scaled out), shock, strut settings, springs, everything is the same. Only difference is the anti roll bar, and how it is instructed to be set up.
Is there something I/we are missing about how to set up or adjust this bar to work properly. Just wondering if anyone has or has had any problems with this and might know or have known of something that might be a trick in how to set preload, etc for this bar.
Car is normally launched on roughly 4-5 psi of boost off a Powerglide brake at roughly 3600-4200 RPM. You can see how the car would leave with the old TRZ bar in the picture in my signature.
Here is a video of a pass in Bowling Green with the new roll bar in place.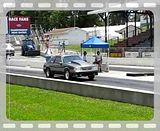 Any advice or assistance would be greatly appreciated.
Thanks,
Mark