Discussion Starter
•
#1
•
Here's a cool story and some photos from this weekend's Rockies here in Edmonton.
My best buddy of almost 40 years and I and our wives all went racing at the Canadian Open this weekend. He was in the tangerine '27T Roadster in the first picture and I was in my "23T altered. We race Pro ET.......both of us run low/mid nines. Pitted side by side for convenience. It helps when you know the guy in charge of parking :-D
Saturday was a hot mfkr. We suit up and start the day. Quals went alright and then elims started. We both come back from round one holding winning slips. My opponent had a .632 RT to my .04 so I was hard on the binders goin' past him. Was 118mph at 1/2 track and 110 going through the traps lmao. My buddy's opponent gave him a red light. After the usual BS that is drag racing......time for round 2.
I roll into the staging lanes, track guy walks up and says......"you got the bye, what lane ya wanna run in?" I made a hammer down 9.10 pass on a 9.14 dial to see what I had and my buddy just plain out dialed and treed his opponent to win with a .107 margin. We kinda look at each other and realize we are both headed for round 3 and are on opposite sides of the ladder at a National event. We have dreamed of doing shit like this since we all became friends in about 1981.
Off we go to round three. Wheeeeeeeeee!!!!!!! :-D My buddy dials a 9.40 cuts a .0786 and runs it out the back door at 9.4013. Win! I dial in still at 9.14, cut a .0001 RT and pull the brake handle at the end to slow to 9.213 @ 123mph. Win!
Round 4.....quarter finals. 5 cars left standing. we hit the staging lanes and crap......me and buddy are racing each other this round. We knew it had to happen.......silently we were hoping it would be in the finals lol. We line up, we both cut decent lights.....he goes 9.452 on the same 9.40 dial..........I broke out. Dialed 9.13 car runs 9.1299 Ya that's the second time today that one ten thousandth of a second has made a difference.
So....I'm one of the top 5 cars and a quarter finalist at my first time at a National event.....I'm fukkin happy as shit. Get myself outta the suit and start crewing for buddy.
Buddy lines up for semi finals.....he aint got the bye into the finals....he has to earn it, and earn it he did. The dude that had the bye into the finals.........he blew his shit up making a bye run. My buddy is stunned. Show up for final round.......no opponent. Makes his pass. It's WALLY TIME!!!!!!! What a wild frigging day.
Now Sunday comes..........ya this story goes on...........I took too much heat in the 15 layer suit all day Saturday and felt like crap. I felt I wasn't alert enough to race safely so I took a refund of my entry fee and got to work on buddy's car.
Round 1..........my buddy's opponent breaks out.
Round 2..........my buddy's opponent red lights. Can you say horseshoes up your ass?:-D
Round 3..........my buddy cuts a .0117 RT and runs 9.4424 on a 9.40 dial.
Round 4..........my buddy's opponent goes .0148 RED
Holy fuck..........his little roadster is in the semi finals again!! 3 cars are left. We go check a ladder..........he's got the bye into the final round. Then it rained.........and it rained and it was too late to do anything else except postpone the final until next weekend.
At this point we put buddy's car to a Wally and a Runner-up and a pocket full of money. I hope he can pull off a matching set of Wally bookends next weekend.
Here's him in his Roadster, and some other shots I took in the staging lanes and pits on Sunday morning.
Enjoy guys!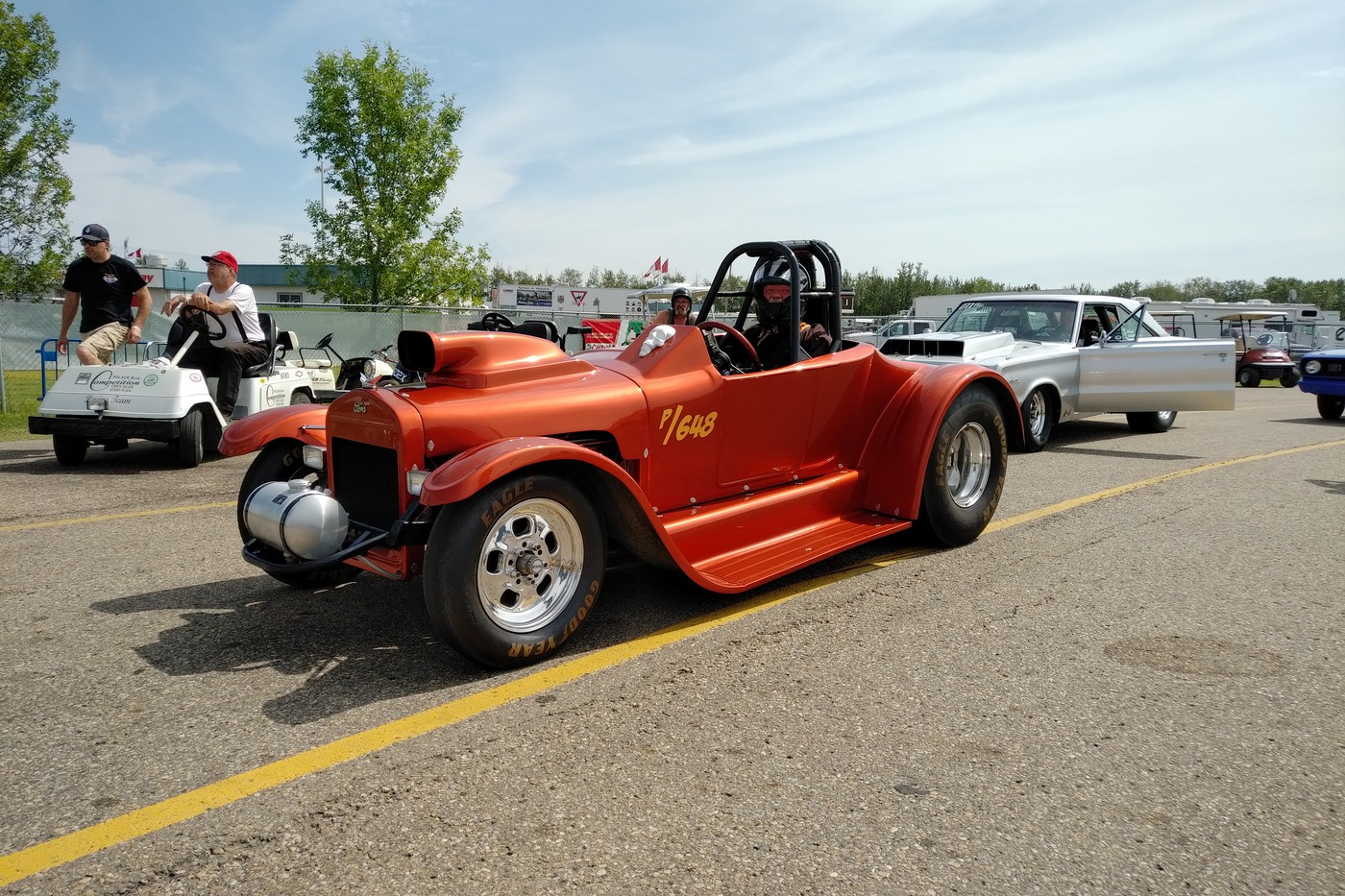 Some of the other cars running Pro ET