Discussion Starter
•
#1
•
I'm new from central Illinois. I used to break shit on diesel trucks for fun until the diesel scene turned into a bunch of dick nosed tool bags, so I am trying to get into turbo gas in one shape or form. I bought a starter vehicle today and I'm here for some advice and probably to catch a whole load of shit for not using the search function. Matt, sloppy mechanics last truck project and a few of my friends got some gears turning. I'm posting from a phone in the middle of a field so bare with me. Here's a copy of my post from Competition Diesel.
I believe in giving credit where credit is due, so I would like to blame The Billy Burns for anything that happens to this truck, my bank account, and my relationship status ahead of time. We had a sauced up discussion about building a budget beater turbo LS last year at the TS golf outing and I have been looking for something off and on since then to fill the void in my life left by driving a stock pickup truck. With that being said I finally found a candidate vehicle. I happened to be in the right place at the right time with cash on hand, with a guy who's down on his luck. The truck is an 01 GMC 1500 Z71 with 280,000 miles. I don't know much about it other than it has 40-60# oil pressure still and it would move in 1st until it warmed up today. The transmission makes a slight grinding noise and doesn't move. I gave $650 USD.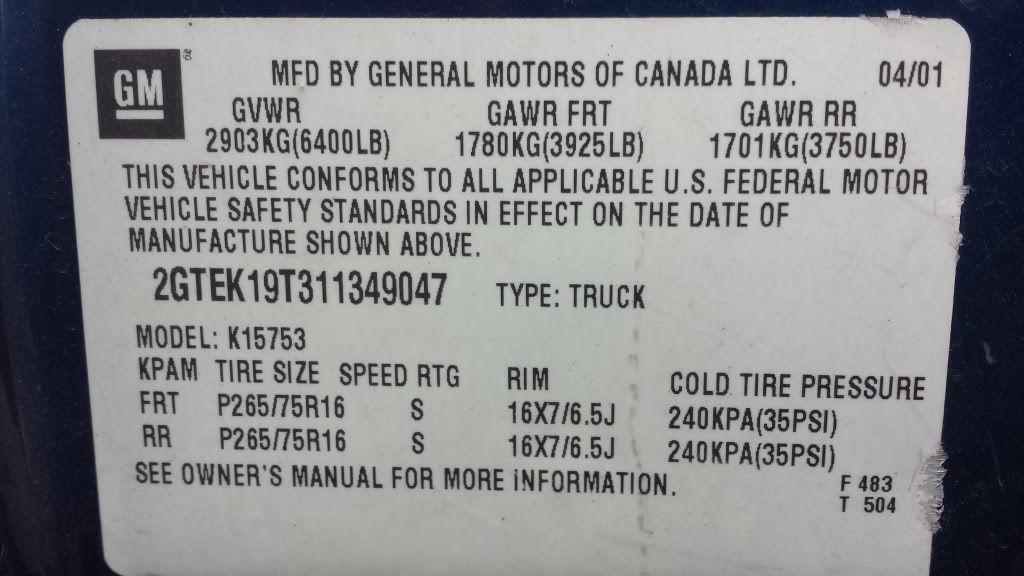 Depending on expert advice I am going to do one of three things.
Twin hx35s, or something cheap, chinese BOV, intercooler, etc. homebrew piping, head studs, rod bolts, valve springs cam.
Or, same as above with a big single.
Or, put a junkyard 4L60 in this truck and massacre coyotes and smash into shit.
I might just drop it off at a junkyard, who knows.
My first question, what is needed to drop a mild built 4l80E into this truck and make it work like it should? Or are there any other budget transmissions that will work.
#2 I know absolutely nothing about tuning, what will I need? EFI, MEGASQUIRT etc, and why.
#3 which turbo setup is most cost effective and fun, simple to build? What and why.
#D What will the rest of the driveline handle? I would like to push it to 500 hp.
#4 Is this a terrible idea? I could throw a transmission in it and some wax and make some extra cash to put into a real project, or have a decent farm truck/hunting truck around for next to nothing.
I bought this truck to get a crash course in gas motors/ATs, similar to what I did with my dodge and it was a good learning experience. If you don't like the idea of being a broke dick in a beater, and ballin out of control don't bother posting your advice because it is irrelevant. . Somethings about to happen here and we don't have time for people being pussies.