Discussion Starter
·
#1
·
New customer street car build we just finished. I know, not a full tilt racer, however a lot of work went into engineering this to work well as a package. It has a torsion front end, which makes for a different cradle under the oil pan. Engine mounts were a new territory to build. As was the trans mount. And headers? FORGET IT!! NOBODY makes anything...So I did. The cool thing is, you install the headers from the top on both banks, and you reach all the plugs and bolts with ease. They are fenderwells and you still get 90% lock to lock steering.
Specs...
010 small block 350 block '70 vintage, 40 over.
Eagle forged crank. 383 crank stroke 3.75"
ARP bolted "Pink" rods.
Keith Black 10.5:1 slugs Hyperutectic.
Trick Flow 195 heads, built well.
1.6 crane roller rockers
Trick Flow 530/290 cam
MSD 6AL box.
Coated Edelbrock intake
670 vac. sec. holley (Changing to 750 mechanical secondary)
Hammerheaders (Our house brand, hand built by me) 1 3/4 primary to 3 inch collectors.
3" pipe with dynomax bullets tucked between frame rail and outside of cab edge. WELL hidden. Dumps behind cab.
Aluminum radiator with twin electric fans. Does NOT get over 190 in traffic.
700R4 build for 650HP.
4000 stall converter.
Moly driveshaft custom built.
8.8 Ford Explorer rear rebuilt with Ford Motorsports posi and 3.73's.
Deck stripes on hood. "SS" on tailgate.
Matching 6 lug front/5 lug rear wheels. (Not as easy as you think...Not many 6 lug styles available in both patterns Nissan and Ford.)
Driveshaft loop.
Frame reinforcements in rear.
2" drop all around.
Find the exhaust?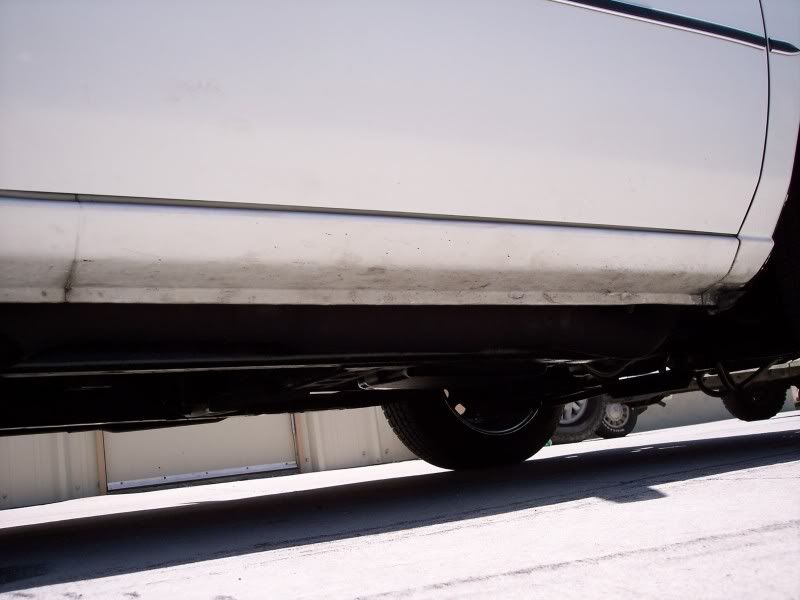 The bullet:
8.8 under her: