Discussion Starter
·
#1
·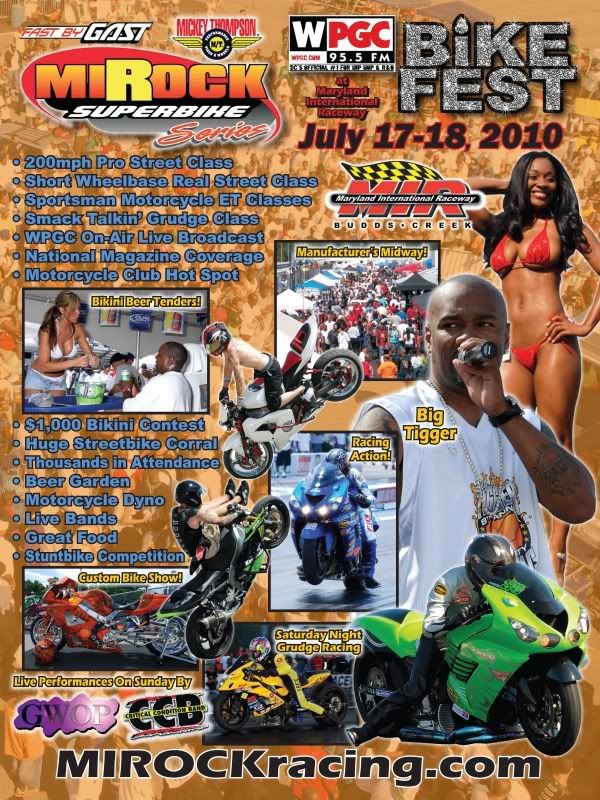 The Mickey Thompson Tires MIROCK Superbike Series is headed to Maryland International Raceway for the Fast by Gast / WPGC Bike Fest on July 17-18, 2010 for the biggest MIROCK event of the year! The event will feature the 200mph Orient Express Pro Street class, HTP Performance Real Street, FBR Shop Quick 32, House of Speed Crazy 8's, Fast by Gast Pro ET, and Schnitz Racing Street ET classes. The event will also include Grudge Racing on Saturday and Sunday with the "Afterdark Underground" 2-hour grudge program on Saturday night after ET eliminations.
The action doesn't stop on the racetrack either, the event will also host a vendor midway both days full of motorcycle parts, apparel, and motorcycles.
Plus a $1,000 bikini contest, a Stuntbike Arena Competition, Live WPGC Broadcasts, a Custom Bike Show, live band performances by GWOP and Critical Condition Band, and a Beer Garden with bikini bartenders. This event hosts over 6,000 spectators and 500 participants each each year! At the Bike Fest you get to see it all! So head to Maryland International Raceway for an exciting weekend of motorcycle action!
SATURDAY SCHEDULE:
Gates Open……………….………………………………..……..………...............….10am
Pro ET, Street ET, Q32, Crazy 8 (qualifying / time runs)..…..……...11am
Stuntbike Arena Practice.................................................11am-7pm
Pro Street, Real Street, Grudge (qualifying)……..…1pm, 3pm, 5pm, 7pm
Pro ET, Street ET (elims.)..…………………………..….……..........……………..4pm
Afterdark Underground….………......starts after Pro ET & Street ET elims
SUNDAY SCHEDULE:
Gates Open…………….….………………………............…….…….....……….…...9am
Pro ET, Street ET, Q32, Crazy 8 (last qualifier / time run)…...…9:30am
Bike Show Judging & Registration....................................10am-3pm
Stuntbike Arena Practice.............................................10am-12noon
Stuntbike Arena Competition........................................12noon-3pm
Pro ET, Street ET, Crazy 8 (elims.)..……………………..........…………12noon
Q32, Pro Street, Real Street, Grudge (elims.)……..…...................1pm
Live Band Performances.....................................................2:30pm
Bikini Contest………………………………………….………….…..............………...4pm
Bike Show Awards.................................................................5pm
ADMISSION:
Friday Night Test & Tune.......................$10 to watch or $20 to race
Saturday or Sunday Adult Admission (one-day)...........................$20
Saturday & Sunday Adult Admission (two-day)............................$35
Friday - Sunday Adult Admission (three-day)..............................$45
Kids 6-11 (per day admission)...................................................$5
Custom Bike Show (includes 1 admission)..................................$30
TRACK INFORMATION:
Track Office: 301-884-9833
Dragline: 301-884-RACE
Track Fax: 301-884-9878
Website: www.mirockracing.com