Discussion Starter
•
#1
•
THIS ISN'T SAYING THAT ANY SHOOTING STYLE SUCKS, SIMPLY A GUIDE TO SHOOTING SLOWER
I personally am a big fan of motion. I have found that in drag racing, most shots are all shot in high shutter speeds, this isn't meaning anything is bad, but you get no sense of motion. I RARELY shoot racing in high shutter speeds and try to push people to try slower shutter shots. It really isn't that hard to shoot with motion and here is a guide I made awhile ago that I adjusted for drag racing.
When I shoot action, i just run the camera in shutter priority (TV on canons) and let the camera figure out the lighting in MOST situations, and sometimes ill fine tune it with AE shifting. When panning a subject, the lighting changes a lot faster. Some situations I run full manual, generally in odd lighting conditions. Make sure you run AI servo and not single shot when shooting action, this allows the camera to continually focus.
The key really is a good lens with a good image stabilization system, this allows you to run a much lower shutter speed. Dont be fooled by some Canon lenses such as the 70-300. It has a single stage stabilizer that only stabilizes vertical movement. Make sure you get a 2 stage (only found in L glass) stabilizer that controls vertical and horizontal movement. There really isnt a formula to shooting action. Ive heard people say a 1MPH: 1MS shutter speed is good, but i dont quite agree with that, I would START with 1.5-2x and then go down from there.
the main points of shooting action are:
1) angle at which the object is traveling, I.E. coming at you, front 1/4 shot, side, rear 1/4, etc.
2) speed of whatever your shooting
3) your distance from where you are shooting
4) focal length (which can tie into 3)
5) lighting sometimes, if you have a good F lens, u dont have to worry about this so much
Side Bar on Burn Outs
I can look at a burn out picture and generally tell around where the shutter speed is just on how the smoke looks and don't really care for clumpy looking smoke. Don't be scared of running slow shutter shots on burn outs, it is easy and will make the smoke look more life like.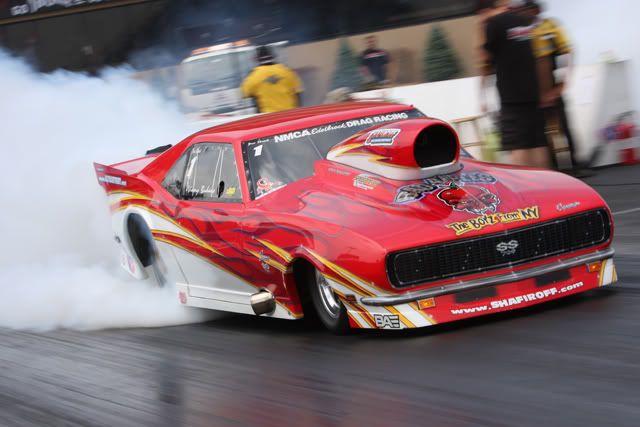 covering 1
Dont bother at trying to run a slow shutter on something coming straight at you. Whatever you might be shooting needs to be coming across you at some point to start getting a sense of motion. If im at a race in a photo hole shooting straight shots, I generally jack up the shutter pretty good, (1/250th) esp. if you cannot see much of the wheel rotation, This is really for only long range, head on shots (300mm+)
At that point you start getting the 1/4 shot, then shutter speed starts to become a factor.
Covers steps 2-4
When Im shooting with my telephoto at focal lock (or close to) at a good distance, your body movement isnt as fast, this allows you to run a slower shutter. keep in mind i have a 2.8L IS which is about the best lens for stabilization, allowing me to run really slow shutters. For non IS lenses, I would start at 1.3-1.5x the speed of whatever your shooting and then move down from there, not going below 50-60th.
Formula D Irwindale: car traveling about 40-50 mph, at focal lock, probably 30 yards away, shutter speed 1/50th. Yea I know it is drifting here, but it also applies to drag racing depending on lens length and lane.
The key is finding that sweet spot. Sometimes you can shoot REALLY slow, but can end up with a little more blur, in which basically your focus point is in focus, but the surrounding areas start to blur. Plus some drivers are faster then others. The below shot was probably either too close or too fast for the shutter speed selected.
DISTANCE
Generally, shorter the distance, shorter the focal, the less speed you can run. If your whipping your camera around fast, its going to be harder for you to hold that camera as still, allowing less shutter.
Launch shot with my 17-40 F4L, shutter was around 125th. As you can see, this is the same speed I was shooting cars traveling 50-60mph, but since it is MUCH closer, this really cuts your ability to run a slow shutter. Below, 1/80th at about 150MM
1/100th, 140 MPH on the brakes hard at about 180 MM