So you ever wonder how strong those engine lift plates are that bolt to your intake manifold?:
Well I found out last week.
I've used one for years.... never worried about it after a trip to the Crower ranch about 12 yrs ago to drop off my engine to Danny Crower and Bruce Crower told me how strong they were and as long as the bolts are tight the threads in the intake manifold can handle some serious tensile stress. I found out how much stress.
My engine weighs 620lbs oil pan to intake manifold: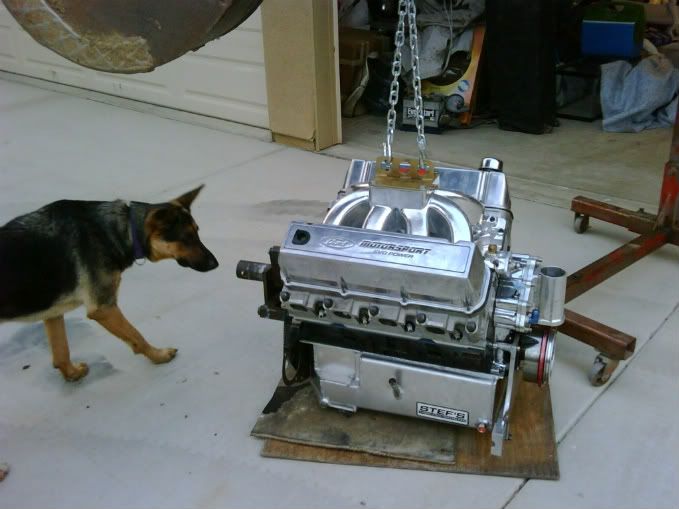 I load and un-load it with a "portable" engine hoist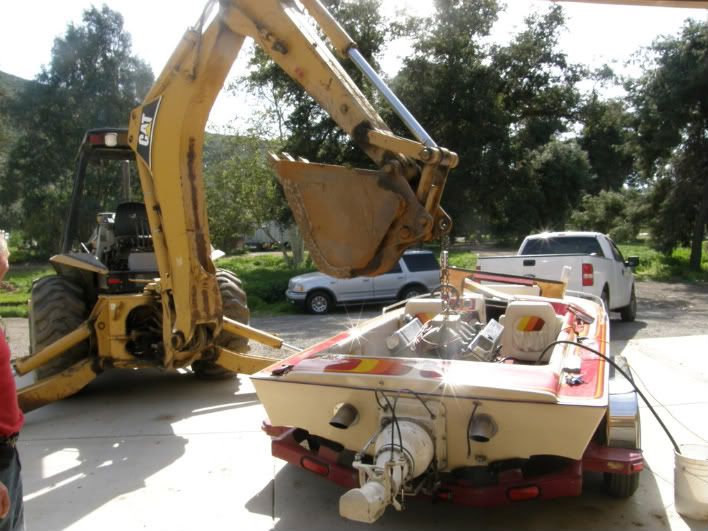 .
Last week when loading the engine in my truck to head off the Westech to dyno it I almost had a disaster. I was loading the engine Monday night with a cold piece of equipment. Sometimes the hydraulic valves stick when the engine/systems are cold. After I lifted my engine from the engine stand I went to swing it into the back of my truck ( engine was about 3.5 ft off the ground. I pushed on the left peddle and nothing happened. So it tapped it with my foot and nothing happened, I waited a second and did it again. Oh Shit !!!!!!!!!!!!!!!!!!!!!!!!!!!!!!!!!!!!!!!!!!!!!
The boom swung a good 4ft to the left like you swinging a bat.....problem was my 620lbs 565" Ford was attached to it with a chain. The engine just "rag dolled" behind the boom, at first I was just surprised it didn't yank the threads out of the manifold and the engine just fall to the ground, then I was horrified when the boom stopped swinging and the engine was in free flight behind it attached to a chain, oh shit what was going to happen when 620lbs reached the end of the chain......................................
The engine hit the end of the chain with a big "whack" and snapped back and dropped under the bucket hanging by the chain. My heart skipped a beat or two. Holy shit I just almost "F"ed up a very nice engine of mine.
The end result of the swinging boom and 620 lbs of 565" Ford: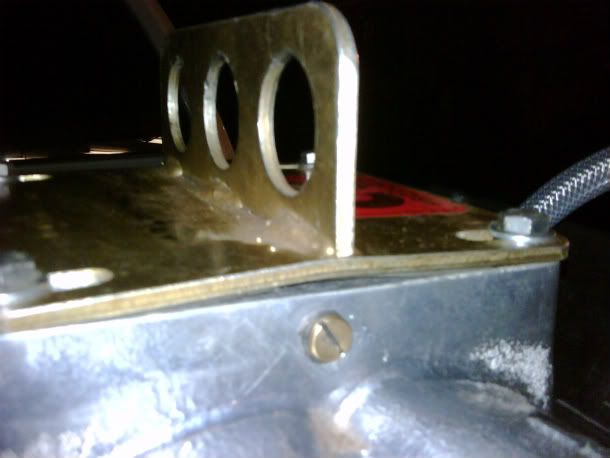 The plate was slightly bent and that's it.
Much thanks to CV Products for making a quality part. I owe you guys one.
The next day the dyno time went pretty well:
and to think it almost didn't happen
G-
Jon