Discussion Starter
·
#1
·
There's been some interest in this in a few other threads and in PMs, so I'll ramble on a bit about it here. Any questions, comments, advice, ridicule, etc, are always welcome.
This is the same concept applied to diesel motors, and different from twin turbo, sequential turbos, etc. Diesels do it to achive high pressure ratios, on a gas motor I do it to get the spool of the small turbo but the flow of the large turbo. The implementation is the same, but the tuning is a little different. I know of at least one other Talon and a Ford pickup of some kind running compound turbos on a gasoline motor.
The general idea is that the small turbo (secondary) gets exhaust first, and its exhaust outlet and WG outlet both feed the turbine housing of the big turbo. The big turbo (primary) sees intake air first, compresses it, and feed it to the small turbo's inlet to be further compressed.
The small turbo sees exhaust first and spools as it would if it were on its own. In my case, it's a t3 50 trim and it spools around 4000 rpm. Once it spools exhaust gas output goes up, eventually enough to spool the big turbine downstream. To help describe this, consider that my 2 liter with 15 lbs of boost applied puts out the exhaust volume of a 4 liter, roughly. At 30 psi, a 6 liter. This is how I can spool a 1.32 T6 s475 somewhere between 4 and 5k rpm with a 2 liter 4 cylinder.
On the compressor side, I run both turbos at a 2:1 pressure ratio, which is the equivalent of about 15 psi around sea level. Since the pressure ratios are not additive, but are multiplied, you end up with 45 psi instead of 30, and neither turbo is breaking a sweat.
A picture is worth a thousand words, and this is one of my favorite examples. In this case the top turbo is the small one and the bottom turbo is the large one.
And here's some shots of my setup.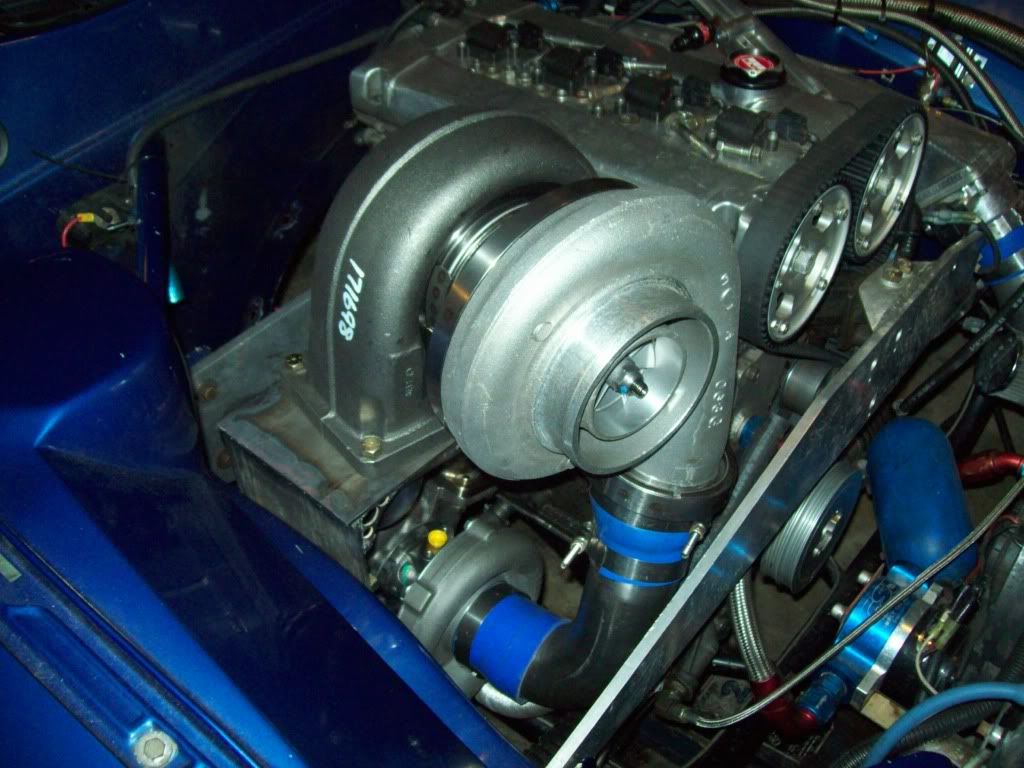 http://i116.photobucket.com/albums/o23/kjewer1/Junk/rwdturbo004.jpg
You can see the small turbine outlet and it's WG outlet merge into the T6 flange.
http://i116.photobucket.com/albums/o23/kjewer1/Junk/100_1135.jpg
I ended up adding a second WG on the small turbo to keep it under control.
http://i116.photobucket.com/albums/o23/kjewer1/Junk/December008.jpg
Here are the first two full track runs on this setup. My previous best on the single turbo ( 1.01 T4 GT4294) at the same boost was almost the same ET and trap, but I needed nitrous to get it to spool. Now I can spool the much bigger turbo with no loss in performance without worrying about nitrous.
http://www.youtube.com/watch?v=vhiKLm9E6UA
Now that I've proven it works and I'm happy with the setup, I have to copy it all over to stainless and get some new pictures, I've changed a few things in the design since these were taken, and have a few more to make that should really improve efficiency and spool up, and really take advantage of the benefits of this type of system. This has been a big learning experience, and a lot of fun.