Discussion Starter
·
#1
·
Well the wagon build has officially started.
I'm no pro and this isn't built to be a dedicated race car. Just a really fun 1600hp street car that I can Race every weekend with cold a/c and kids strapped in the back.
Drove all the way to Arkansas to pick up a parts car for hard to find parts. Interior panels, glass, doors, chassis wiring, rear hatch, roof rack, window assemblies, etc. The wagon I'm picking up for the build is "drag car", all lexan, no inner doors, no interior, no roof rack, no functioning lights, no writers, etc. So it's cheaper and easier to buy a parts car. Did I mention I got it for $300? Would cost me $1600 to buy glass alone without a parts car so it was a smart decision. To bad there is no title and so much rust. I could have built this one...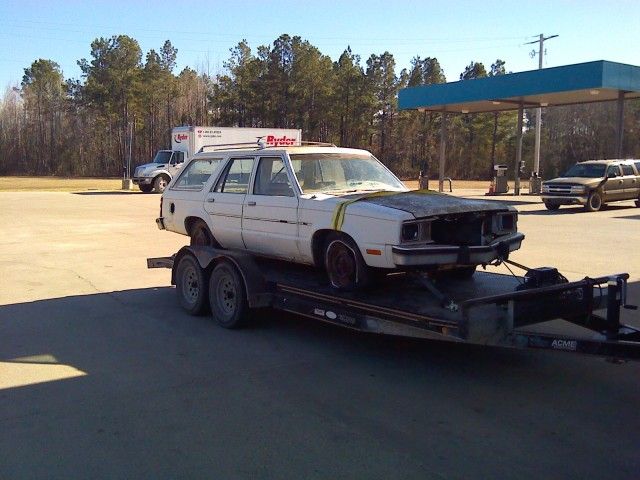 Got it home and went to work removing what I need. The parts car has no title and the floors are completely rotted out so she's going to the scrapper after I'm done.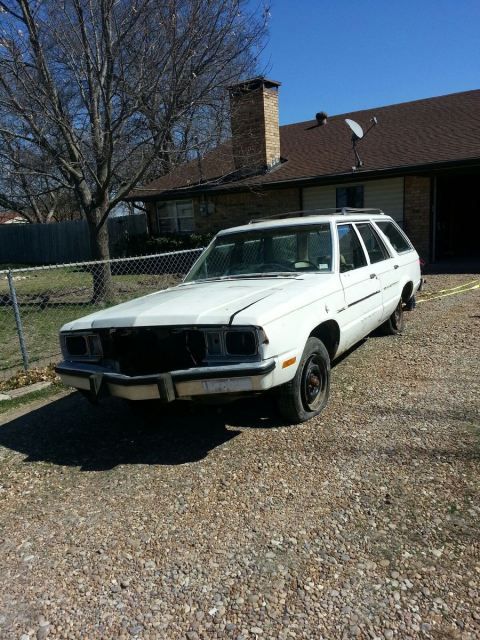 Removed the interior first with the help of my little buddy.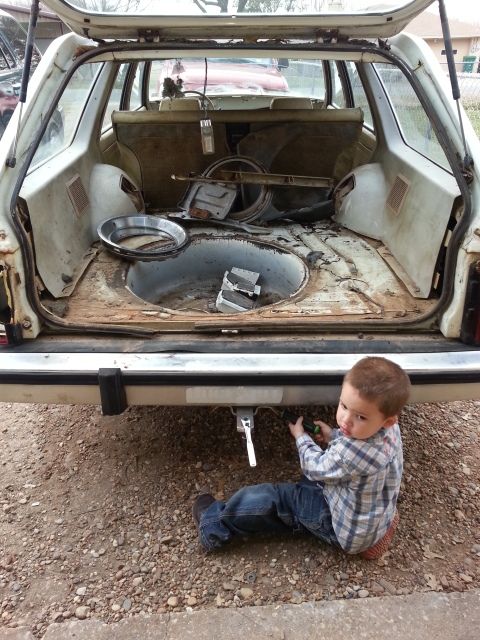 It all needs restoration and will be dyed afterwards. Undecided what color yet.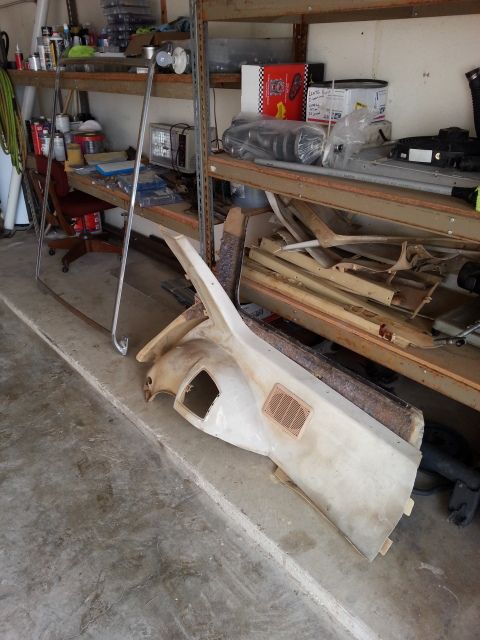 Here's a brief list of what it's got.
Adjustable struts and coil overs on the front, tubular k member, caster/camber plates, manual rack, solid adjustable upper/lower rear control arms, rear drag springs, 33? Spline Moser axles, spool, c clip eliminators?, removable steering wheel, etc.
Time to get to work. Gonna tear out the cage work, aluminum tin work, and strip this thing bare. I'm starting from scratch. Chopping off the front end from the strut towers forward, cutting out the floor, and parts of the firewall.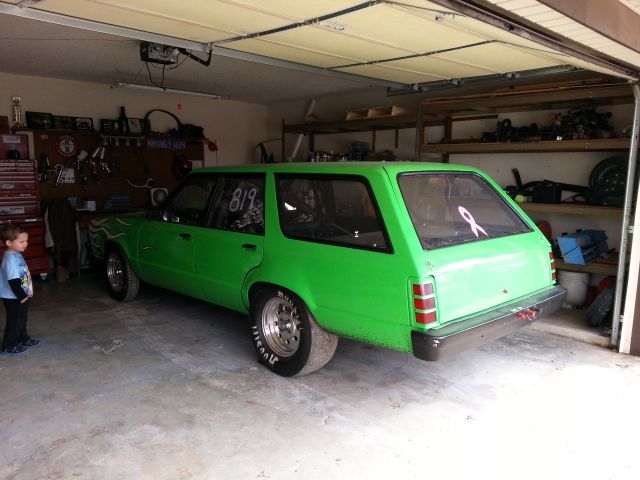 Mean green ugly machine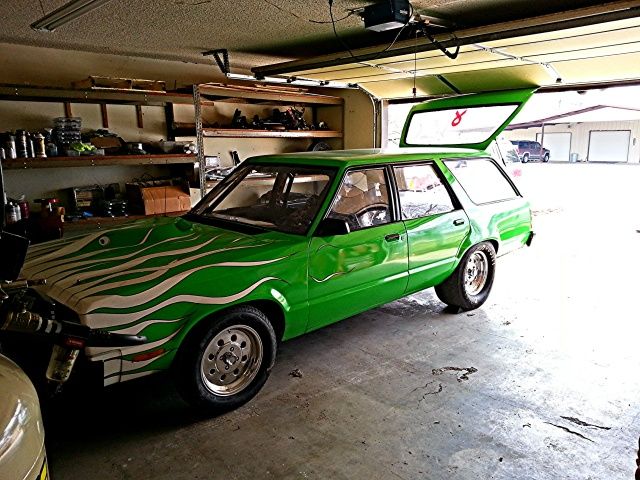 Interior shot. Going to utilize the donor wagon wiring harness integrated and cut down with my own harness to use with a sn95 dash and Fairmont steering column. Should be interesting.... cuz I'm going for a factory look.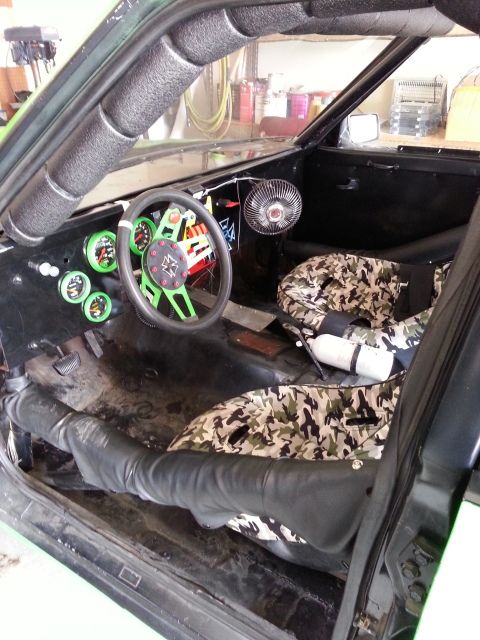 From the back. All this shit is coming out too. Going to put a large fuel cell under the car and utilize the factory fuel door.
Ripped out most of the tin work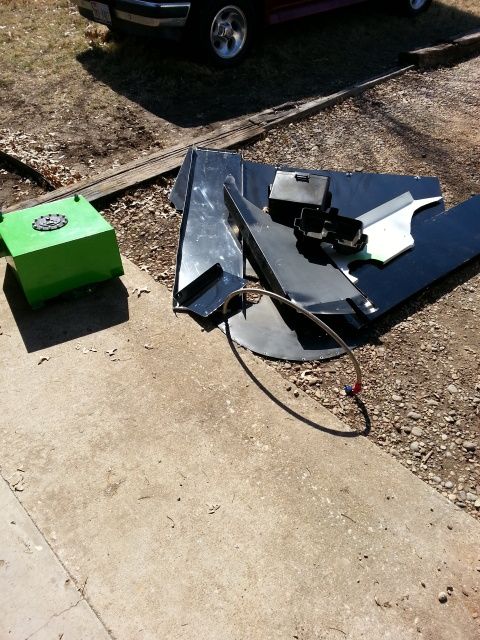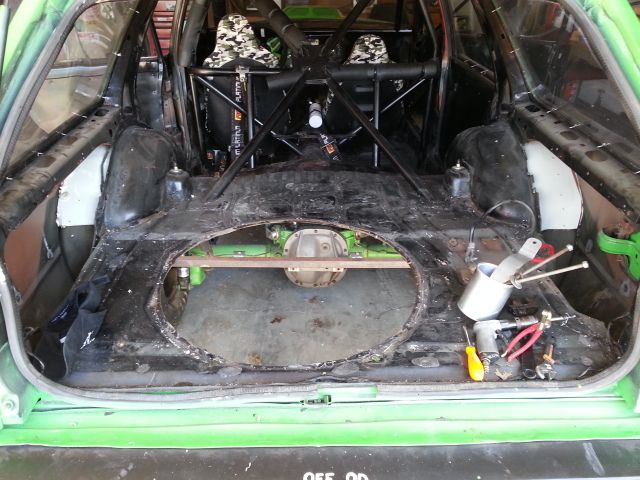 Got the dash and wiring out.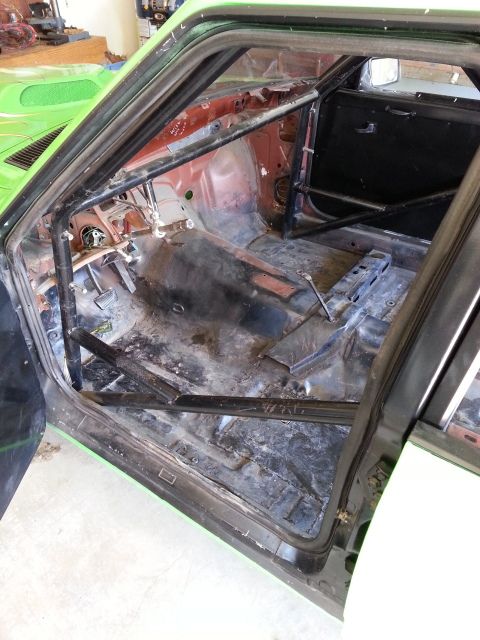 I'll be keeping the quick release hub but that's it from this steering column.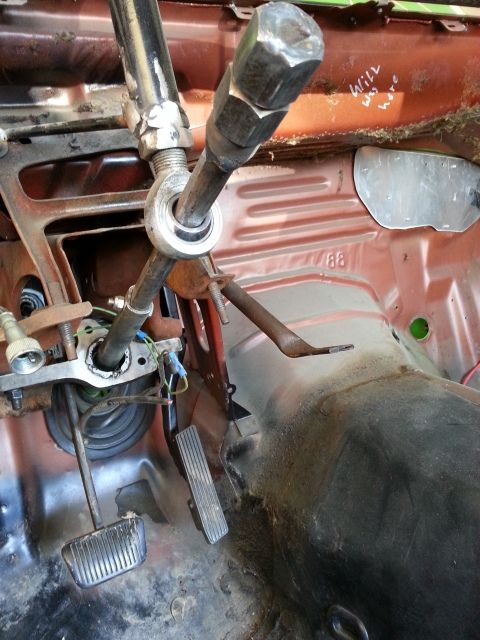 And you can see why I'm going to rip out the cage and start over. I'm undecided if I wanna build a 25.5 chassis or 25.3 it'd be easier to get the kids in and out of a 25.5 and 7.50 is probably faster then I'll ever go so I'll likely do a 25.5....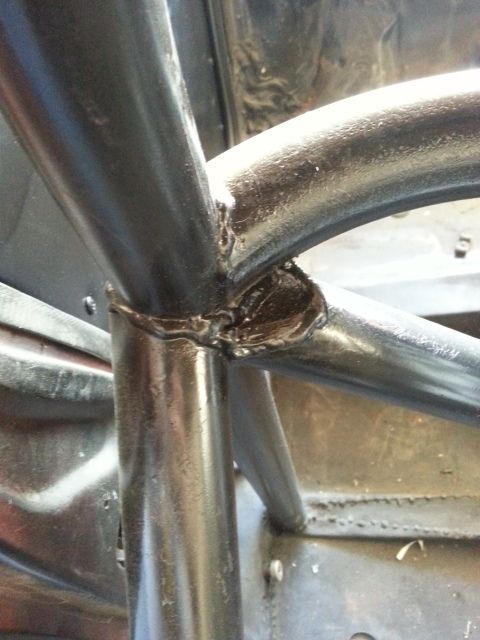 getting this bitch torn down to a shell. Going to chop the front end off, build a tubular front, and mount the shell on a rotisserie.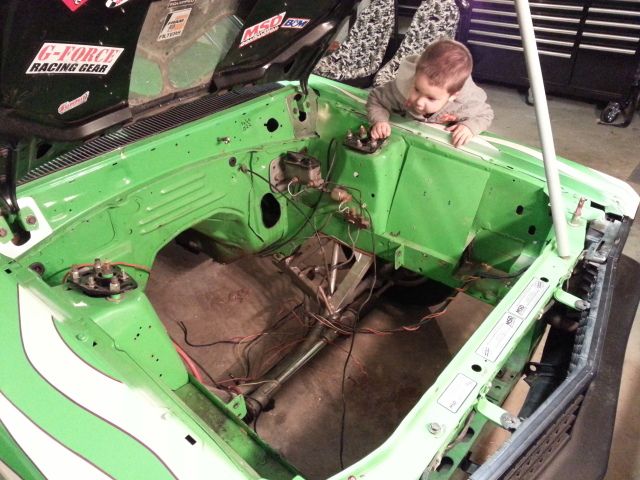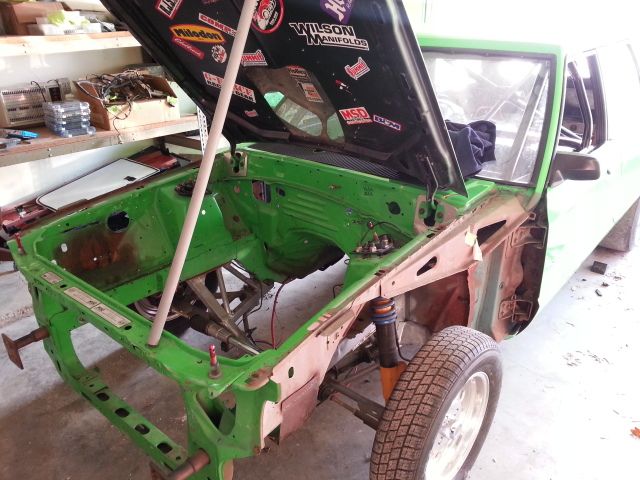 Got her completely torn apart. Only item left is suspension which I will remove once the rotisserie is built.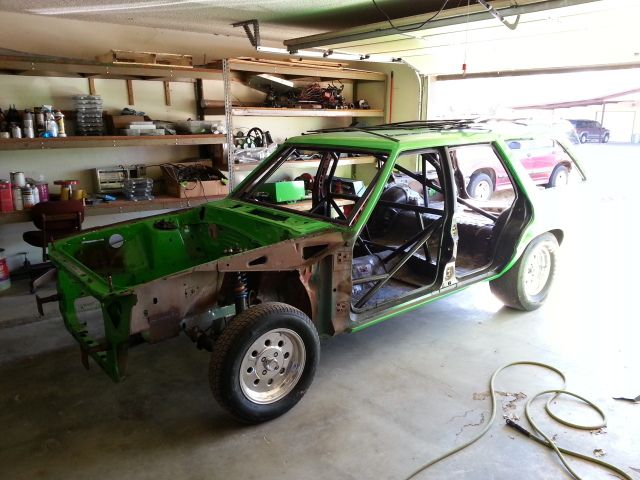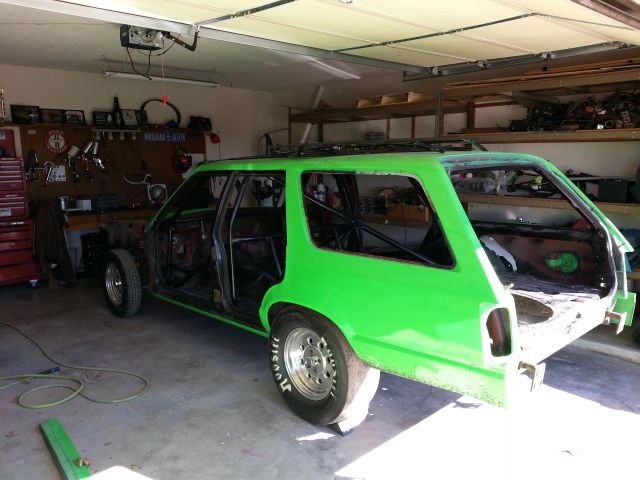 My project for tomorrow is to combine the driver front door from the parts car with the driver door from the green car.
The green door is gutted. And the parts car door is to damaged to repair. I'll be cutting out the inner door skin out of the parts car door and welding it into the green door so I can have a functioning window.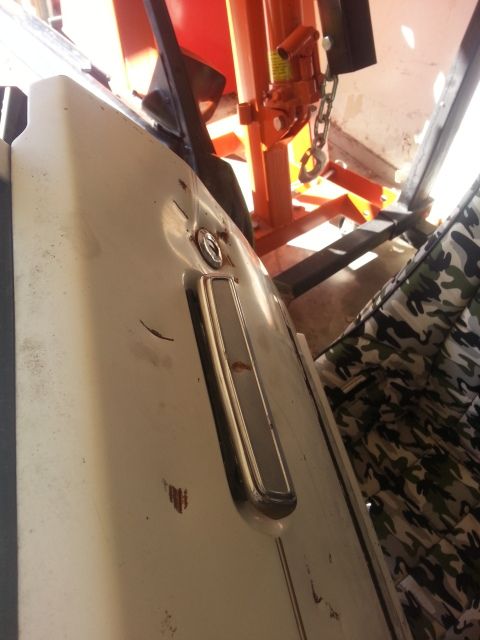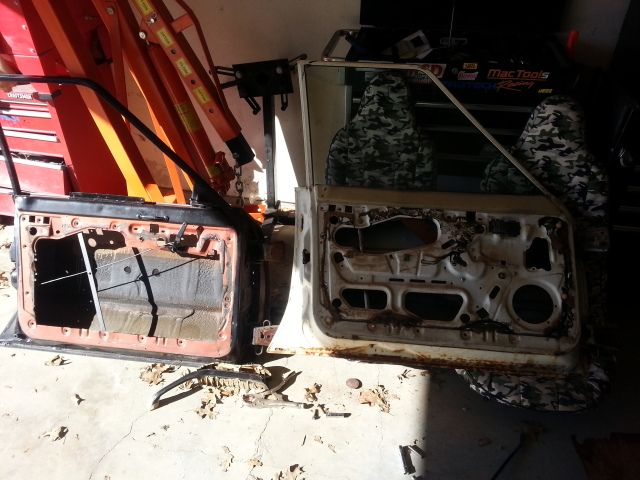 Got started on the inner door skin swap. I'm only taking what I need and eliminating any unnecessary sheetmetal.
Cut out the donor to size and held in place with clamps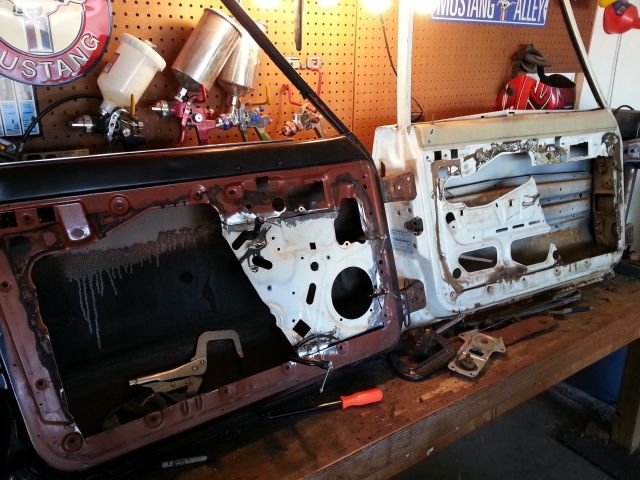 Welded in place. Got half of it smoothed out already and squirted a little primer on it to prevent rust for now. Everything will be sand blasted later.