Discussion Starter
•
#1
•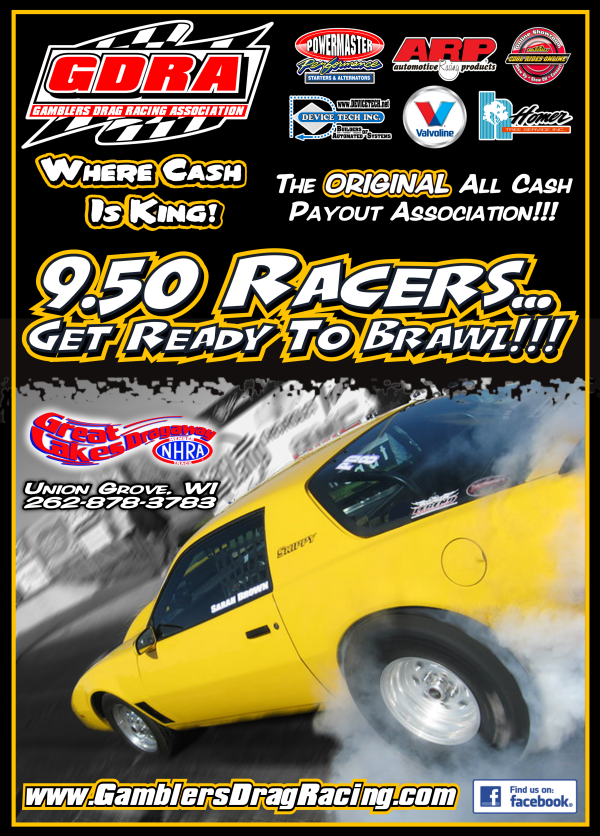 Here is your chance to race with the GDRA at the Legendary Great Lakes Dragaway as part of the Nitrous Street Car Brawl events!!!

After 3 years of your the racer asking and begging for it we can make this happen. The track has be kind enough to give us the option to add this class to our program at these events after you the racer have asked for it. Thats right... there are 3 total Nitrous Street Car Brawls left at Great Lakes Dragaway this season and if you want to race with us there here is what we need from you.


We need your commitment to run these events. The track will only add this class to that schedule if we have an 8 car or larger field. All the same rules apply as they would at Byron and Cordova.


Race Dates: July 21st, August 25th, and September 22nd

Buy-in is $125

All Cash Payouts
Heads Up
.400 Pro Tree
Pro Lader
Your ride must cert per NHRA rules
Oil retention device MANDATORY
(Complete rules and payout information can be found on our website)

So, if this is something that interests you as so many have mentioned to us over the past 3 season and you want this to happen... its now all in your hands. You need to commit to these events so the track knows your are serious about racing on those dates. We have made this easy for you. Simply go to this link, fill out the online form, and click "Submit." The on July 21st, be ready to race as part of the Nitrous Street Car Brawl!!! Thats it.
https://docs.google.com/spreadsheet/viewform?formkey=dGxHbThGN3VEZk5faXJFZEJ2WFFkQ3c6MQ


For more information check out our website at
www.GamblersDragRacing.com or on Facebook under Gamblers Drag Racing.
​