I am starting a build thread for my 69 Skylark. I have had the for 12 years, and it was my first car and drove it to high school. It has gone through a lot of changes, and this winter I plan on really stepping it up. It started life as a stock 350 car, my sister blew the motor up, and after several 350 Buick combinations it ended up going 12.90s. When my 12 second 350 Buick broke a rod, I ditch the Buick stuff all together and did an LS swap. The car currently has a SBE 5.3 LS with a cam, turbo 350 and 8.5 10 bolt. This winter I installing a 402 LS, turbo 400 with a gear vendors, and a build 12 bolt. This car has been bracket raced a lot since 2013 and has probably 800+ passes and a bunch of street miles on it. The new set up will be bracket raced, index raced, and maybe try to dabble in some "fast street car" stuff. Basically just have a fast street car that I can still race and have fun with.
The 5.3 started as a carbed set up, and 2 years ago I switched to Holley EFI. This winter it will get the new drive train, some chassis updates, and we are going to paint it. I am going to attach some older picture of the car so you get an idea of where it started to where it is now. It is not the nicest car, and it never will be because I drive it and race it, but it has been mostly garage built by me and a few buddies and we have a lot of fun with it.
This picture is from 2013 when we first finished the LS swap. I took it to Gateway (my home track) and double entered it and won Pro. It had no interior, was several different colors, and was overall a pretty shitty car.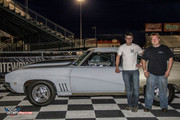 This picture is from 2017. After some years of working on it the car was in flat black primer and had an interior in it. The body was pretty rough around the edges still, but the car was still much nicer. This was right after I did the Holley EFI conversion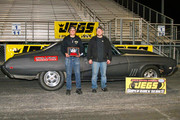 Since then my buddy helped me fix the body, and we shot it with flat black paint. It did not really turn out great and we plan on respraying it this winter. This picture was from a few weeks ago at the last bracket race I took it to. It went 11.95 which is the fastest this combo ever went. I can largely thank the -200 DA for that.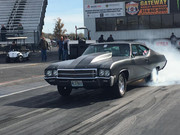 For anyone that likes Bracket racing I am going to attach a youtube video I made with my GoPro while up at the division 3 finals at Indy this year. There are a few others on my channel if you like stuff like that, and plan on making a bunch more next summer.
This was my attempt and showing you the progression of the car over the last 6 or 7 years. There is a lot on the winter to do list, so I will do my best to keep this updated.
If anyone has advice on an easier way to post picture, I am open for suggestions