Discussion Starter
·
#1
·
Dammit. I am seriously 2 seconds away from ditching the mod motor shit and putting a pushrod in this thing. Maybe this was simply mechanical failure, or perhaps caused by something else. Any input is greatly appreciated as I am not the best at diagnosing these things, but I am learning.
Bit of background. Car was on a low 8 sec pass and it let go at about 1000'. 28psi in the logs and A/F was good 11.3-11.5, 17* total timing on e98, BR9 plugs (not extended tip), A/F didn't even change much when the motor let go which is kind of frightening in itself. Only lost 1psi when the shit hit the fan, lol. I get to about 1000' and the motor let go, blew the oil baffle lines off the oil can, and lines off the head, oil everywhere, so that was fun just slowing down. Motor still ran so I quickly limped to the return road and shut it down. Car never over heated, this was at a race so we had plenty of cool down time, etc. Obviously the crankcase was pressurized so oil everywhere.
Get it home, start the teardown, and here is what we see. This is cylinder #4 by the way.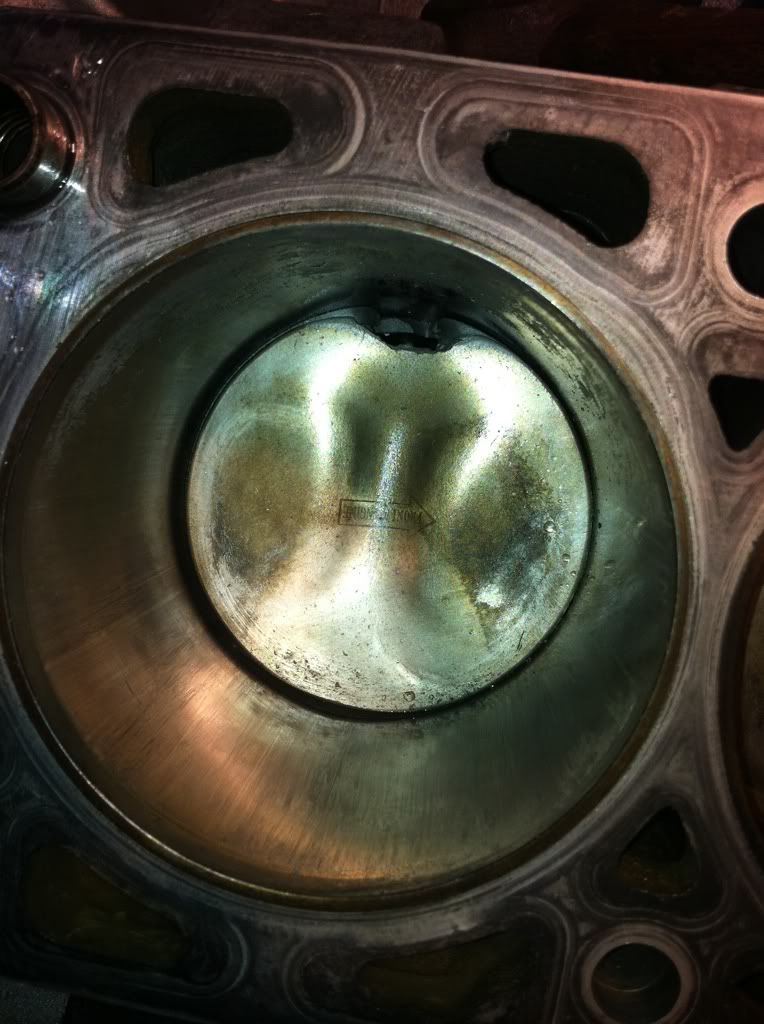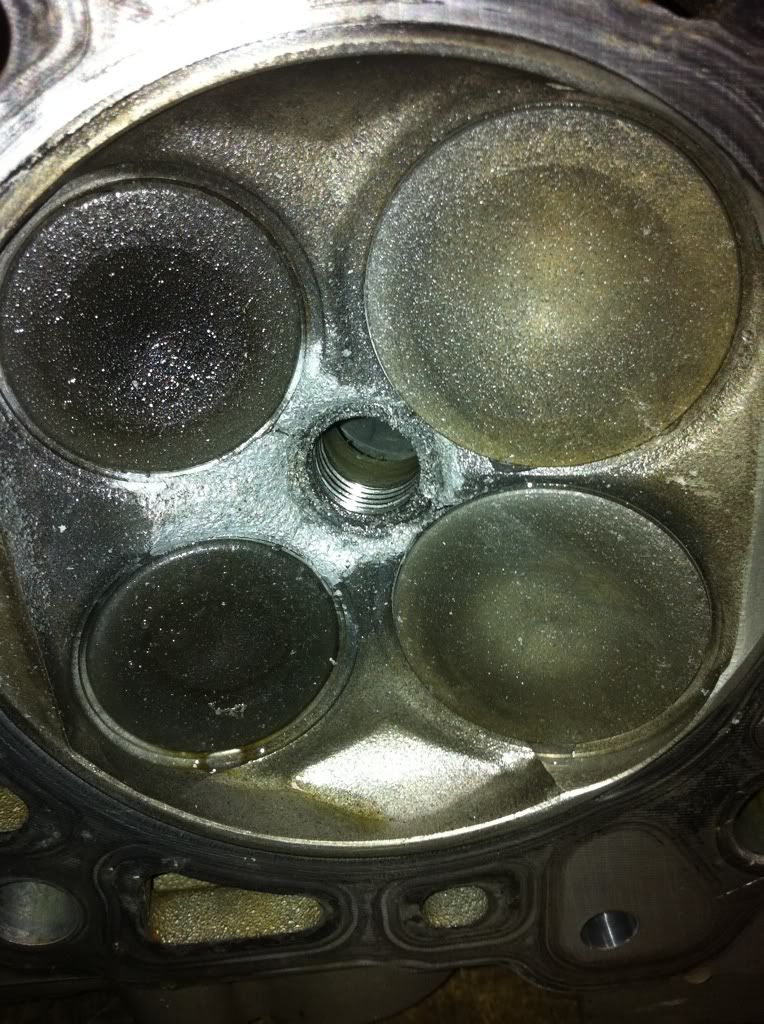 The top of the piston is wavy, like it started to collapse, and the chunk is missing out of the top. It's hard to tell if the head got hot and started to come apart, or if the piston let go damaging the head. These are Manley flat tops with upgraded wrist pins. Stock cobra crank, Oliver billet rods, Teksid block, rings are all hand-filed, not sure of the brand or gaps off the top of my head.
Observations from teardown:
Plug #4 tip destroyed, obviously

Oil breather lines blown off, oil everywhere.
Intake port #3 was 100% completely filled with fuel when Sullivan was removed!
DS bank plugs all oil fouled, oil seen in intake as well
Oil dripped out DS header, waste gate on that side had oil in it as well
PS header and waste gate very white on the inside. Evidence of bad heat or ?
Cylinders/pistons #1 - #3 look 100% fine
Still have to pull DS head #5 - #8
Like I said, #3 intake port was completely filled with fuel when the intake was removed - does that mean the injector is stuck open and all the fuel from the rail drained into there? Or bad coil, bad wire? The thing is that #3 looked fine and #4 was wrecked next door.
Any thoughts ? Detonation, heat, something else? The fuel filled intake port was pretty concerning to me lol
I have a pair of new heads on the way, but I'm seriously considering dropping the mod motor shit, even if I have to not race next year to change my stuff over to SBF.