Hey boys and girls!
Yes, Its me again!!! Lol!! (Who the fudge am i, right??!!! Well, I've been flippin first gen Camaro's more than ever and even more so for the last two years or so always thinking that the next one was gonna be it!! Many of you might even have seen a few of my build threads started on here.... lol!! Well, seems that these cars alway ended up beeing liked by someone else more than by me! (Cha-Ching!!) So i always ended up taking the money and running with it.... only to find another project and start all over.
Well, i realised that it might be because i had my share of afirst gen gem's and that it might be because of that that i didnt have more interest than that in finishing (or just pushing) these projects any further... so, thats when i started to think that, hey!! There are other models!!! Lol!! And i started to look at other cars and wonder if i had the choice (which i had!) what would i choose....
My first car in my life was a '68 Chevy 2 (Nova) that i bought and sold a few times (see a pattern here!?) but that i took all the way to show car over the top BB machine at some point so, i did what i wanted to exorcise it out of my system (even tough i know who has it and he has my name if he ever wants rid of it lol!!)
So, that s prolly what got me to pick up that '70 model i just picked up about two months ago! I had just sold all my other cars and decided i had enough for awhile.... you know how that goes!! The same night the last camaro left, i was surfin "just for kicks" pockets filled and "just looking". Well, "Looking" got me to this ad for a stored since '91 '70 Nova with excellent body and clean title for 2k$.......Game on!!
Long story short, car was 8 hours from me, that was Friday night. Time to pack up my gear, get somesleep and hook up the trailer... we were on the road!! I had my best co pilot with me (father of 3 beautifull girls, 8-12 and 14, im spoiled!!) and the middle one has a major thing for cars and is always there in the shop with me and always ready to learn or land a hand, seriously, shes better at 12 than many of my friends will ever be!!
She's the one that pulls on me every friday night to hit the TnT nights or asking "whats the program this week end?" Or, what track are we goint to this week end (even if im not really looking to go, shell ask till i give in!! Lol!!!
Anyway, we get there, pay the man, get this thing up and hit the rd back home.
I already had an super low miles 6.0L and an also low miles all alum 5.3L so i knew i wanted to go LS. (I also have a BB that i toyed with the idea of, but just sold it to a friend to stop all my mind gears). So LS it is!!
I have been working quite seriously on it for the last two months and wasnt sure where to post quite frankly. Beeing a long time member here, i love the place and the traffic makes it cool to get some feedback and help, but i also know nothing (almost) about those snails so i started to hang at TTF (the turbo forums) and tought it could also be of interest....
Anyway, as i said, i know the drill 'round here so, i know we like pics!! Lol!!!
So ill start with the day i got the hulk here!
Here goes nothin,
H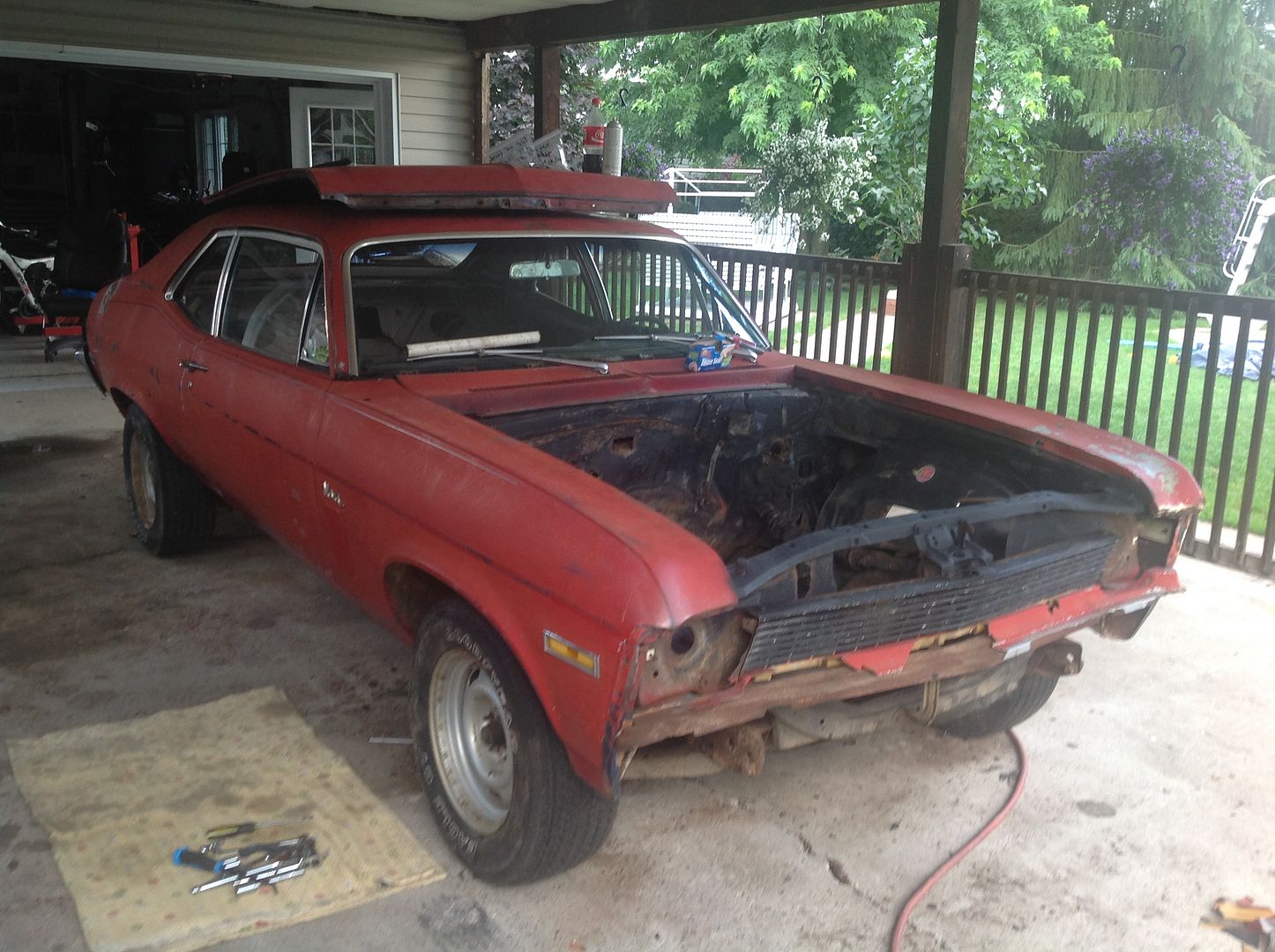 Its an original paint (under the red) car. I dont know what they did with that paint job but its holding in some spots and not so well in others. It makes for a cool look... i think!? Lol!! Anyway, if you dont like it, might as well jump ship as i dont plan on changing it, not right now anyways!!
See, my plan is to do the whole underside of the car super nice, and leave the exterior as bought. Kind of a crusty Nova thing....
Its going pretty well so far and the rate of parts delivery has been constant. The whole underside and inside have been sandblasted so far, epoxy primed and painted so, im moving forward!! Chassis is about to be back to a roller soon, but were getting ahead of ourselves here!!!! Lets start wiith the beginning!
Hope you like what you see! As always, im up for comments and advices!
Lead.