Re: BUILDS:
---
Quote:
Originally Posted by
tirefryin_s10
What do you wanna know?





Well Filled the ol' girl with Water last night and some Joe gibbs break in oil.... Cranked and cranked and cranked no fire..... had me scratching my head for a while. Then I realized it broke one of the small wire eyelets at the back of the passenger head that lead to the ecm and provide ground to the coils and WHAM.
ITS ALIVE!!!!!! Just need to hang the turbos on it,get my new dynatech driveshaft in and a few other small odds and ends and then its time to LET IT EAT!
I'd like to build one similar to yours
__________________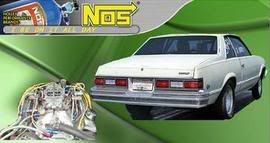 79'malibu 383 w/nitrous street/strip car
80' malibu 305 TPI -SOLD
00' Excursion 6.8